Easter Wednesday
A Message of Hope from Milan and a Word from Trinity's President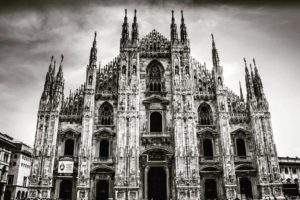 The great Italian tenor Andrea Bocelli sang at the historic Duomo cathedral in Milan in a special concert on Easter Sunday this year.  He sang without an audience. Entitled 'Music for Hope,' Bocelli's concert was poignantly performed in isolation but was streamed globally via Bocelli's YouTube channel in light of social distancing measures in place throughout the world to stem the spread of the new coronavirus.  As the concert progressed, video streams from Paris, London and New York testified to empty streets in the world's great cities in response to the COVID-19 pandemic. The final piece, John Newton's Amazing Grace, featured Bocelli alone on the front steps of the cathedral, surrounded by the empty cathedral plaza.
The tenor Bocelli, who was invited to give the special solo performance by the City of Milan and the cathedral itself, said: "On the day on which we celebrate the trust in a life that triumphs, I'm honoured and happy to answer 'Sì' to the invitation of the City and the Duomo of Milan."
Bocelli continued: "I believe in the strength of praying together; I believe in the Christian Easter, a universal symbol of rebirth that everyone – whether they are believers or not – truly needs right now.  Thanks to music, streamed live, bringing together millions of clasped hands everywhere in the world, we will hug this wounded Earth's pulsing heart . . .
The 25-minute video clip is an Easter gift, 'music for hope' in a time of uncertainty:
"We will hug this wounded Earth's pulsing heart."  Praying together, trusting in a life that triumphs, the performance in the Milan cathedral was a moment of beauty and hope in a time of fear, anxiety, and deep uncertainty, an Easter moment.  We are captured in a time described as 'in between,' remembering how things were just a couple of short months ago and seeking to envision how they will be when this separation and distancing lifts.  I am hopeful. Easter new life is ours, and we are invited to respond and, "hug this wounded Earth's pulsing heart . . ." We are invited to breathe new life into what will be our post-pandemic world, bringing our hope-filled hearts to shape lifestyles that seek just relationships and are, perhaps, a bit more humble.
This week Congregation Council President Paul Crist submitted a "Council Corner" column for the May issue of The Messenger.  However, we had made the determination among Trinity staff that we would refrain from assembling and distributing the April and May editions of our newsletter as the parish program transitioned into quiescence.  Nonetheless, grateful for his submission, Paul's words of reflection and thanksgiving follow:
If you are like me, I am getting a little stir crazy with the Covid-19 lock down. While I understand how important it is to continue to practice social distancing and the impact it is having on flattening the curve, it is springtime and Easter, a time of community and fellowship.
This feels a bit like the combination of the movies "Groundhog Day" and "The Truman Show" wrapped together.
I want to thank the church staff and the pastors for all the work they are doing remotely to keep the congregation of Trinity engaged, safe, healthy and in fellowship during this period. I also want to thank the technical team that helps put on a first class, professional online service every Sunday. Very impressive.
As I watched the live online Easter service today, I wondered what lessons Jesus could be trying to teach us with this Covid-19 experience. I think He is helping me to better understand what the "nice to haves" versus the "must haves" are in my life. I have come to realize that many things I might have thought were "must haves" are actually "nice to have" and it has made the "must haves" much clearer. What are the "must haves" in your pre-Covid-19 lives that seem to be more of a "nice to have" today?
One of the true "must haves" that's become most evident to me is the need for the Trinity congregation to support each other and pray for each other and, while the online services are excellent, the online services cannot replace physically worshiping together. Pre-Covid, I might have thought about our physical worship together as more of a "nice to have."  It is abundantly clear that our worshipping together is indeed a "must have." I look forward to being together and passing the Peace with you again soon and the chance to celebrate Easter again, in person. 
Grace, peace and health to you all,
Paul Crist
Trinity Congregation Council President
Beloved community, this is a time for reflection as we assess our pre-COVID-19 lives and begin to envision the way we will be together again.  I pray that the joy of Easter morning lingers this Easter Wednesday and throughout the season of Easter and springtime.  May we find hearts to celebrate new life in this time of uncertainty and unaccustomed isolation, that we may be bound together in creative love even in our separation.  And may we emerge from this separation with new hearts for the goodness of community, exemplified in just relationships and, perhaps, a measure of humility.
Grace and peace,
Pastor Bob Linstrom