People of Trinity,
Attached is a packet of Worship Resources for the Second Sunday of Easter, April 19.  Prayers and the readings from scripture are included, along with devotional resources for the days ahead.
You are invited to join us for worship on Sunday, April 19 at 9:15 a.m. – instructions for joining our live streaming and/or viewing the services later are included in the attachment.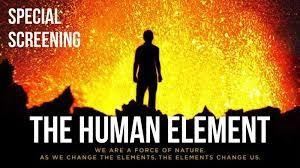 Faith Climate Action Week, and Words of Hope for our wilderness time . . .
In this time of COVID-19 pandemic, we have become acutely aware of our interconnectedness as a global community.  We are part of a deeply interconnected organism on this planet, with our significant current focus on a global health crisis unlike any I recall in my lifetime.
Next Wednesday, April 22 is Earth Day, the 50th anniversary of that moment each spring when we reflect on the overall health of our planet and seek to find ways to activate that reflection into stewardship of this good creation.  Trinity's Earth Keepers invite your participation in "Faith Climate Action Week" which begins today and continues through April 26. Consider these options sponsored by Interfaith Power and Light:
Follow the link below for a

free viewing of the film "The Human Element." 

During Faith Climate Action Week, April 17 to 26,

the Earth Vision Institute and environmental photographer James Balog are offering a link to view the film for free from home.

With rare compassion and heart, "The Human Element" relays captivating stories from coast-to-coast, captures the lives of everyday Americans on the front lines of climate change, and inspires us to reevaluate our relationship with the natural world.
For additional information about viewing this arresting new documentary, please go to: https://www.interfaithpowerandlight.org/2020/01/the-human-element/
You will find an opportunity to view the trailer of the film and sign up to receive a link and password that will enable you to view the film for free from April 17 to 26.
Washington National Cathedral and Interfaith Power & Light are co-hosting an online interfaith worship service focused on our shared call to climate action

. Leaders from Sikh, Hindu, Buddhist, Jewish, Muslim, Christian, Indigenous, and other spiritual communities will share their tradition's gifts through sacred text, commentary, and song,

and call us to collective action.
Join the worship celebration and the sharing of diverse religious teachings in honor of the 50th anniversary of Earth Day on Sunday, April 19, at 2 p.m. Eastern time.
Learn more here.
If you are interested in

learning more about Trinity's "Earth Keepers,"

contact Director of Discipleship Sylvia Stouten at

sylvia.stouten@tlcgr.org

.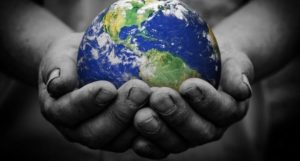 Words of Hope for our wilderness time . . .
This week I sent a long report to Trinity's Congregation Council with updates on the ministries we share at Trinity during this time of closure and distancing.  At the outset of the report I paused to share some devotional words of hope, these excerpts:
Who will separate us from the love of Christ? Will hardship, or distress, or persecution,
or famine, or nakedness, or peril, or sword? No, in all these things we are more than conquerors through him who loved us. For I am convinced that neither death, nor life, nor angels, nor rulers, nor things present, nor things to come, nor powers, nor height, nor depth, nor anything else in all creation, will be able to separate us
from the love of God in Christ Jesus our Lord. 
Romans 8:35; 37-39  
Likewise the Spirit helps us in our weakness; for we do not know how to 
pray as we ought, but that very Spirit intercedes with sighs too deep for words. 
And God, who searches the heart, knows what is the mind of the Spirit, because the Spirit intercedes for the saints according to the will of God. 
Romans 8:26-27 
We have a Lord who is capable of crying with us, capable of walking with us in the most difficult moments of life. 
Pope Francis 
 Since the Congregation Council last met on the evening of March 9, our world has changed in ways we could not have imagined.  Within three days of that meeting, with the unfolding of the COVID-19 crisis, we had cancelled "in person" gathering effective Sunday, March 15.  Within two weeks of that action, we embraced the "stay-at-home" executive order of Michigan's governor and formalized our current parish protocol.  As we come to mid-April, the Trinity church facility is occupied during office hours by Office Coordinator Kris Baker only, coordinating communications, mail and deliveries, supporting onsite resources for Finance Assistant Joanna Waite and preparing worship resources.  A small group of four of us have come on site for live streaming of worship on Sundays and during Holy Week. All other onsite presence and programming has been suspended until further notice. 
Even in a time such as this, friends in Christ, this we know: nothing will separate us from the love of God in Christ, even in our societal separation.  The very Spirit of God intercedes for us with sighs too deep for words, and our Lord walks with us in our uncertainty and distancing. We did not see all this coming when the Council met together just a bit more than a month ago, but this time will not overwhelm us.  We may even emerge transformed after this time in the 'wilderness.' From our heritage in scripture we know that God tends to work with God's people in wilderness times, like a potter works with clay . . .  
More on God's teaching to "the wilderness school" in an upcoming congregational email.  For now, beloved community, please know how much the pastors of this congregation miss being together with you, the people of Trinity.  For now, we will find joy in our virtual gathering on Sunday morning.
Join us in live streaming of "virtual worship" this Sunday:
Second Sunday of Easter, April 19 at 9:15 a.m.
Grace and peace,
Pastor Bob Linstrom