A deferred Easter Hymn, Outdoor Worship next Sunday and an invitation to the COVID-19 vaccine from the wider faith community
A Deferred Easter Hymn
Beloved community,
As the people of Trinity have returned to worship during the last couple of months, we have given thanks for the privilege of being together "in person."  We have likewise given thanks for the sacramental grace of Holy Communion that we have shared in the sanctuary and in Centennial Hall.  However, as we have gathered, we have continued to mask up and maintain a bit of distancing, and we have refrained from singing.  That last sacrifice has been, for me, the hardest.  As people of a rich liturgical tradition and with such a wealth of traditional and contemporary song, not singing in worship has been a steady reminder that we are not yet through this long pandemic journey.  
It is still Easter in the life of the church, a season of 50 days that will conclude as we celebrate the Day of Pentecost on May 23.  I came across this collaboration of musicians in recent days, a gift from the Association of Lutheran Church Musicians playing and singing the great Easter hymn, "Jesus Christ is Risen Today."  Like the collaborative efforts offered several times this last year by our own Trinity Choir, these musicians all completed their offerings independently and they were woven together into a grand ensemble.  The hymn text is even provided so that you may sing along in the sanctity of your home.  Celebrating Easter in a time of pandemic, click here to receive that offering:
Outdoor Worship next Sunday, May 2, at 10:45 a.m.
Trinity's worship and music leaders determined this past winter that we would seek to again offer first Sunday of the month outdoor worship services on the west lawn in 2021.  That outdoor worship option begins next Sunday, May 2.  Our outdoor worship services were well received as we began to make our way through the early months of the pandemic in 2020, and some suggested that the goodness of being together in worship on the church campus should continue even when our COVID-19 separation is over.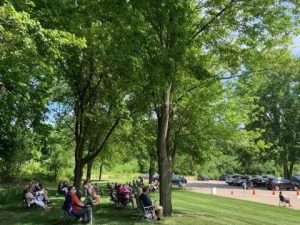 If you would like to gather for indoor worship next Sunday, plan to attend the 8 a.m. traditional service or the 9:15 a.m. Rejoice service.  The 9:15 a.m. service will be live streamed as usual.  The 10:45 a.m. service will be on the west lawn in the shadow of the Cross Tower.  Please plan to wear a mask, keep distancing, and bring your own outdoor chair.  This brief service of Holy Communion will include the Confirmation of our 2020 Confirmands, those whose celebration in May of 2020 was postponed in the early days of our pandemic separation.  Because we have those Confirmands and their families planning their Sunday, May 2 Confirmation celebration, Pastor Dan has arranged for a large tent on the west lawn to provide shelter in case of inclement weather.  Join us, rain or shine, as we gather for worship on the west lawn.  We will even be blessed with the gift of song as Rejoice musicians lead us in our outdoor worship celebration.
An interfaith invitation to take your shot as an act of loving your neighbor
Many of you know that I am an advocate for the COVID vaccine for those who can receive it.  Due to allergies or other health concerns, there are those who must make the decision not to receive the shot, but as we aspire to journey back to singing in worship, embracing one another while sharing the Peace, and putting away those less than desirable masks, I hope that most of you will consider getting your vaccination in the days ahead.  It seems clear that a well vaccinated community will allow our return to many of the things we have missed in these last 14 months.  
The following 60 second public service announcement from a group of Michigan interfaith leaders emphasized the sense that getting the vaccine is simply an act of loving one's neighbor:
Blessings good people of Trinity.  As we await the day when we may sing together again in worship, may you be safe, may you be well, and may you be held in love.
It remains a privilege to serve as one of your pastors.
Grace and peace,
Pastor Robert Linstrom