Finding community in a time such as this
Therefore, my brothers and sisters, whom I love and long for, my joy and crown, stand firm in the Lord in this way, my beloved. 
Rejoice in the Lord always; again I will say, Rejoice. Let your gentleness be known to everyone. The Lord is near. Do not worry about anything, but in everything by prayer and supplication with thanksgiving let your requests be made known to God. And the peace of God, which surpasses all understanding, will guard your hearts and your minds in Christ Jesus.
Philippians 4:1, 4-7
Beloved community,
When Paul wrote to the early Christian community at Philippi, he wrote to the church he loved.  So much of his ministry writing epistles was a ministry of correction and clarification.  Paul was constantly trouble shooting based on what he heard about his errant flock in many of the communities he helped found, fledgling churches seeking to be the Body of Christ in the world.  But when he wrote to the Philippians, one hears Paul addressing the community he 'loved and longed for, his joy and his crown,' perhaps the singular early Christian community that had fully grasped the power of the Gospel he was seeking to share.  Paul loved the Philippian community.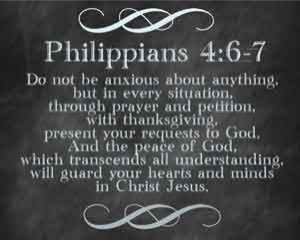 Last Monday I wrote to the Trinity congregation after a first experience worshipping virtually, at home in front of the TV tuned to Trinity's YouTube channel.   Since the pandemic began, I had been staring down the camera in a nearly deserted Centennial Hall every Sunday morning, seeking to nurture a meaningful connection with the congregation through our ''virtual worship.'  I wrote, "I join with many of you in finding this time of distancing unsatisfactory.  At the heart of worship is our coming together, our communion with one another in the place where our liturgy unfolds."  And then I launched into an apologetic for the refraining from Holy Communion during this time of our separation.  I cited my friend Ben Stewart who had taught recently that, "The Body of Christ is being broken apart and it is being broken open for the life of the world in this pandemic time.  By refraining from the sacrament," he said, "we are doing something entirely eucharistic, participating in that brokenness, in the broken body of our pandemic exile."
Among the various responses I received last week to that congregational email was a gentle counter argument offered by Congregation Council member Steve Heacock.  His genuine response was heartfelt, and I received his permission to share it.  Steve wrote:
I appreciate your sentiment but really think our church is strong even virtually.  I can feel a strong relationship with you and our church even in the absence of physical presence.  Brenda and I really do feel the presence of others while we are watching the service.  We see the kids participating in the children's service.  We stand when you say to stand and we pray, out loud, as we would in church.  You, Dan and now Karen are excellent at speaking to the camera and making us feel as if we are actually there.  And we are there – in a way.  Maybe it is a little like having a strong relationship with Christ even though I have not yet had a physical connection.  There are times in my life when I have truly felt his presence.  Maybe it is difficult at times to believe he is really there.  But I know he is, and I know our church is there too – not just the building, but the congregation of people who share their lives and faith together.  
On March 22, the first Sunday of our exclusively live streaming of worship, I remember pacing around on the Centennial Hall stage as we waited to begin the liturgy.  I was trying to integrate the need to direct myself to the camera on the wall above the AV booth, an absolutely foreign worship requirement for me 35 years into parish ministry.  I mentioned to Pastor Dan that morning how strange that requirement felt, along with our intent to begin the worship service in an empty worship space.
However, my sisters and brothers, it wasn't more than a few minutes into our first pandemic alternative liturgy when I felt the warmth of the Trinity community gathered with me.  Though relatively inexplicable, I knew that there were fellow congregants out there, and that when we came to the responsive parts of the service, many of you were joining us in praying the liturgy.  I have known it ever since.
I hope that you are finding community with the congregation called Trinity Lutheran Church, even in a time such as this.  I close today with Paul's final words in that little section of Philippians 4, his commendation to the church he loved:
Finally, beloved, whatever is true, whatever is honorable, whatever is just, whatever is pure, whatever is pleasing, whatever is commendable, if there is any excellence and if there is anything worthy of praise, think about these things. Keep on doing the things that you have learned and received and heard and seen in me, and the God of peace will be with you.
Philippians 4:8-9
Blessings to you, O people of Trinity.  Boudin together in community, may you be safe, may you be well, and may you be held in love.
It remains a privilege to serve as one of your pastors.
Grace and peace,
Pastor Robert Linstrom