Outdoor Worship schedule expanded, and our call to nurture patience in this unsettled time
Beloved community,
We gathered yesterday on the west lawn of the church property and it was good to be together.  A larger than usual congregation was in attendance for the beautiful August morning gathering and our simple liturgy of Holy Communion.  For the first time in this year's gathering for summertime outdoor worship services, the mood was somewhat buoyant.  Now veteran pandemic exiles, we found the simple joy of being together a blessing.
We also completed a quick poll and agreed to offer the outdoor service more frequently as we await Phase 5 opportunities for worship in the sanctuary and Centennial Hall.  And as we anticipate the change of seasons . . .
Mark your calendar and join us for brief outdoor services of Holy Communion on the west lawn:
October 4, with a St. Francis Day "Blessing of the Animals," at 11 a.m.
Currently our protocol is that the following Sunday will be the "rain date" in the event of inclement weather.
It was many years ago that I began to emerge from the haze of strong paid meds with both legs in traction and both arms in casts.  It was an extraordinary journey for a 19-year old to embark upon, with a full five months of hospitalization ahead before I would come home in leg braces and on crutches learning to walk.  I was told that the x-rays from the 15 major fractures I suffered in the accident would eventually be shared at a convention of orthopedic surgeons.  
Once my situation stabilized, my parents were most concerned about my ability to nurture the patience that would be required to take on a rehabilitation program that would last a couple of years.  I had not been a paragon of patience as a kid growing up and my parents knew that better than anyone.  This journey was going to require newfound resilience, determination and a consistent measure of patience.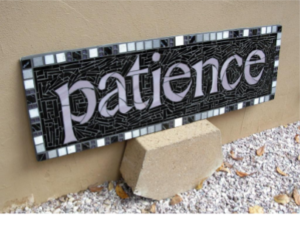 I find parallels on the quest for patience as we continue to forge a path forward as pandemic people.  And I worry, like my parents worried, that we will not find and nurture the patience to make our way through this trauma and the slow rehabilitation that will follow.  Our pandemic fatigue is real, and every indication is that a post pandemic 'new normal' could be many months away.
Travel guru Rick Steves was profiled in a recent essay in TIME magazine regarding the first time in 30 years that he has spent the summer at home.  Usually he spends four months on the road each year, but COVID-19 has changed all of that.  He wrote on the amazing trajectory of his life until just a few months ago, yet still finding a new and surprising joy while staying in one place.
Watching the hummingbirds flock to his bird feeder, Steves remarked, "The main thing for us to do right now – and what America is flunking at – is being patient.  Being diligent, embracing science, respecting the needs of the greater community . . .  I always say, 'If it's not to your liking, change your liking.'  Be in that group that loves it when we stay home."  (TIME, August 3/10, 2020)
We are being tested in this amazing time.  As we persevere, some wise words evoking patience on the journey of faith:
"For surely I know the plans I have for you, says the LORD, 
plans for your welfare and not for harm, to give you a future with hope."
Jeremiah 29:11
"Rejoice in hope, be patient in suffering, persevere in prayer."
Romans 12:12
"Do not worry about anything, but in everything by prayer and supplication
with thanksgiving let your requests be made known to God."
Philippians 4:6
"Patience and fortitude conquer all things."
Ralph Waldo Emerson
"The keys to patience are acceptance and faith.  Accept things as they are,
and look realistically at the world around you.  Have faith . . ."
Ralph Marston
"Faith is taking the first step even when you don't see the whole staircase."
Martin Luther King, Jr.
"Faith and patience are exceptional virtues in those that suffer.  
Patience is the fruit and evidence of faith."
John Calvin
I pray that we will all nurture patience for this journey.  For now, join us for worship on the west lawn, for our live streaming of virtual worship at 9:15 a.m. every Sunday, and for the other programming that we are seeking to provide in our 'virtual parish life.'  People of hope with a future, we can choose to endure this most remarkable time.  And in the decades ahead, we will tell a generation yet to be born of the amazing pandemic of 2020, hopefully telling a story of resilience, determination and patience in the face of adversity.
Blessings to you, O people of Trinity.  May you be safe, may you be well, and may you be held in love.
It remains a privilege to serve as one of your pastors.
Grace and peace,
Pastor Robert Linstrom