"Living life with purpose," remembering the actor Chadwick Boseman, and a blessing of children for the new school year
Rebecca and I do not take in many movies while they are still in the theatres, but our sons urged us to see the Marvel Comics Black Panther movie when it came out in early 2018.  We thoroughly enjoyed the high energy action movie, our introduction to this comic book superhero and the world of Wakanda, and we appreciated the underlying message of living with purpose and seeking to make a better world.  The movie carried a sincere message of hope for greater unity in our global village.  Black Panther certainly became my favorite 'superhero' film, although admittedly that's not a genre I tend to know well or seek out.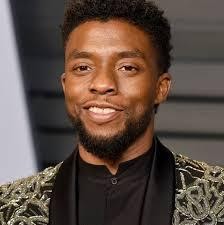 Last Friday, at the age of 43, Black Panther star Chadwick Boseman died after four years battling colon cancer.  Boseman, who played King T'Challa and his alter ego the superhero Black Panther in that movie, has been lifted up in his passing for his cinematic talent – he also starred in movies as Supreme Court Justice Thurgood Marshall, as baseball great Jackie Robinson and as entertainer James Brown, with high regard for all of those performances.  
ABC ran the movie Black Panther last evening without commercials as a tribute to Boseman, and in that showing I recalled the speech that his character King T'Challa made to the United Nations at the end of the movie.  In a time of polarized rhetoric and deep divisions in our nation, I found that brief speech from the 'king of Wakanda' to be inspiring.  
"Wakanda will no longer watch from the shadows. We cannot. We must not," T'Challa declares. "We will work to be an example of how we as brothers and sisters on this earth should treat each other. Now, more than ever, the illusions of division threaten our very existence. We all know the truth: more connects us than separates us. But in times of crisis, the wise build bridges, while the foolish build barriers. We must find a way to look after one another as if we were one single tribe."
In May of 2018, a few months after the release of Black Panther, Boseman delivered the commencement speech at his alma mater Howard University.  He told a bit of his own story to the graduates, citing the challenge of facing barriers and rising above them, and he called upon them to find purpose and to live lives rich in that purpose:
"Sometimes you need to get knocked down before you can really figure out what your fight is and how you need to fight it.    When I dared to challenge the systems that would relegate us to victims and stereotypes with no clear historical backgrounds, not hope or talents, when I questioned that method of portrayal, a different path opened up for me – a path to my destiny.  When God has something for you, it doesn't matter who stands against it.
"I don't know what your future is, but if you are willing to take the harder way, the more complicated one, the one with more failures at first than successes, the one that's ultimately proven to have more victory, more glory, then you will not regret it.  This is your time."
Live with purpose, perceiving your calling, and strive for the things that will benefit those around you, those with whom you share life's journey.  Recognize that there is more that binds us than separates us, that we are, in a real sense, "one tribe."  
In his High Priestly Prayer, Jesus prayed that his followers would all be one.  It remains our aspiration.  Jesus also called his followers to the 'harder way,' the way of the cross.  That remains our calling.
A few hours before I viewed Black Panther last evening, I had the privilege of joining Pastor Dan in offering a "Blessing of our Kindergarteners and their Backpacks" during our 9:15 a.m. live streaming of worship.  While we prayed, eleven of Trinity's Kindergarteners were profiled with photographs of those young ones and their backpacks scrolling on the presentation slides.  A "virtual blessing" was offered in Centennial Hall to our children as they begin the new school year, blessing the backpacks and those who will wear them.  
Several Trinity members and friends reached out after the blessing yesterday requesting the Bible verse cited and/or the blessing prayer.  I have included them below.  In this most remarkable year, let us keep our Kindergarteners and all our children in our prayers, along with their families, teachers and support staff.  They are all part of our 'tribe' as well, and the challenges in 2020-2021 will be sometimes daunting.  Let us bless them all with our loving support.
A reading from Mark, chapter 10.
13People were bringing little children to him in order that he might touch them; and the disciples spoke sternly to them. 14But when Jesus saw this, he was indignant and said to them, "Let the little children come to me; do not stop them; for it is to such as these that the kingdom of God belongs. 15Truly I tell you, whoever does not receive the kingdom of God as a little child will never enter it." 16And he took them up in his arms, laid his hands on them, and blessed them.
Dear God,
as we get ready to start another year in school,
we ask your blessing on these backpacks,
and especially on these children who will wear them.
As they do the very important work of being students,
bless them with:
eagerness to learn, that their world may grow large;
respect for teachers and students,
that they may form healthy relationships;
love for nature,
that they may become caretakers of your creation;
happiness when learning is easy
and stick-to-it-iveness when it is hard;
faith in Jesus as their best teacher and closest friend.
We ask that you would protect these, your own children.
Watch over them and keep them safe
as they travel to and from school.
As they learn, help them also to discover
the different gifts that you have given each one of them
to be used in your work in the world.
As they hear the many voices that will fill their days,
help them to listen most carefully for your voice,
the one that tells them you will love them always,
no matter what.
We ask this in Jesus' name.
Amen.
Blessings to you, O people of Trinity.  May you be safe, may you be well, and may you be held in love.
It remains a privilege to serve as one of your pastors.
Grace and peace,
Pastor Robert Linstrom