Holden Evening Prayer for Advent, and a Path to Healing
Beloved community,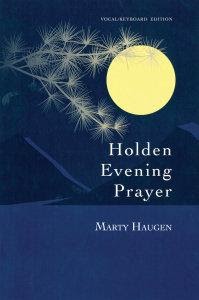 Welcome to the first Wednesday of Advent and the opportunity to participate in Advent Midweek Vespers, the service of Holden Evening Prayer.  To view the 25-minute video worship service for this first Advent Wednesday, click here: https://youtu.be/Tx1BvKJourU.
To access the worship bulletin for your participation in this evening's Advent Vespers service, click here: Virtual Advent Vespers.  We are privileged to be hosted by Pastor Dan Schewe, Carrie Wygmans and cantors Deb and Bill DeWitt for this midweek Advent worship service.  I also extend my thanks to Bryan Bredwell who crafted this beautiful video service for our devotional life together.
Are you OK?
In his weekly column "Interfaith Inform," Kaufman Interfaith Institute Director Doug Kindschi yesterday cited the recent New York Times essay by the Duchess of Sussex, Meghan Markle, the wife of Prince Harry.  Her essay was titled "The Losses We Share," and was subtitled, "Perhaps the path to healing begins with the three simple words: Are you OK?"  
An excerpt from Doug's article follows:


She discloses for the first time the loss she and Prince Harry suffered from her miscarriage last summer. She also connected it to the losses and pain that we have all felt this past year. She writes about a journalist who, while she and Prince Harry were on tour in South Africa the previous year, asked her, "Are you OK?"  Duchess Meghan notes that she is rarely asked that question, but realized that the first step in healing is to ask clearly, "Are you OK?"

Given the challenges of this past year, she suggests it is the question for us all, "Are we OK?"  We have been brought to the breaking point, she continues: "Loss and pain have plagued every one of us in 2020, in moments both fraught and debilitating. We've heard all the stories: A woman starts her day, as normal as any other, but then receives a call that she's lost her elderly mother to COVID-19. A man wakes feeling fine, maybe a little sluggish, but nothing out of the ordinary. He tests positive for the coronavirus and within weeks, he — like hundreds of thousands of others — has died."

Markle continues her litany of loss and pain by revisiting recent tragedies. "A young woman named Breonna Taylor goes to sleep, just as she's done every night before, but she doesn't live to see the morning because a police raid turns horribly wrong. George Floyd leaves a convenience store, not realizing he will take his last breath under the weight of someone's knee, and in his final moments, calls out for his mom."

But it is more than these vivid events that have filled our news feeds; it is also the attack on truth itself.  Yes, we have differing opinions but now we can't even agree on what is true. "We aren't just fighting over our opinions of facts," she writes, "we are polarized over whether the fact is, in fact, a fact." We refuse to accept science and the hard facts of the pandemic and what we must collectively do to slow its spread. Markle connects her grieving the loss of a child to now grieving the loss of our country's shared belief in what is true.

When asking that simple question, "Are you OK?" are we prepared to actually listen to the person who is willing to share, to hear with an open heart? This is the first step in the healing process for individual grief as well as for our attempt to understand the divisions in our society.

Going through this very different Thanksgiving season, Markle urged that while "many of us separated from our loved ones, alone, sick, scared, divided and perhaps struggling to find something, anything, to be grateful for — let us commit to asking others, 'Are you OK?' As much as we may disagree, as physically distanced as we may be, the truth is that we are more connected than ever because of all we have individually and collectively endured this year."

Sisters and brothers in Christ, are you OK?  To some degree, I believe that this question is deeply intimidating for many of us, as we seek to quietly tread water in this time of uncertainty, division and pandemic.  The miscarriage of a duchess, even if she has stepped away from her 'official' capacity as a royal, reminds us of the very human experience of loss.  So much weighs upon us, so much seems to call upon us, so much seems beyond our control.
Imagine a young girl, perhaps 12 or 13 years of age, pledged to marry a carpenter from an insignificant Galilean town some two millennia ago, but then called to bear the power of God and to birth a savior.  Overwhelmed and far from home, she gives birth to a child, her son, the one who will be proclaimed as Messiah, the anointed one.  "Are you OK?" we could ask.  And she sings:
"My soul magnifies the Lord,
 47and my spirit rejoices in God my Savior,
 48for he has looked with favor on the lowliness of his servant.
 Surely, from now on all generations will call me blessed;
 49for the Mighty One has done great things for me,
 and holy is his name.
 50His mercy is for those who fear him
 from generation to generation.
 51He has shown strength with his arm;
 he has scattered the proud in the thoughts of their hearts.
 52He has brought down the powerful from their thrones,
 and lifted up the lowly;
 53he has filled the hungry with good things,
 and sent the rich away empty.
 54He has helped his servant Israel,
 in remembrance of his mercy,
 55according to the promise he made to our ancestors,
 to Abraham and to his descendants forever."
Luke 1:46-55
Sisters and brothers in Christ, as we check in with one another in this most extraordinary time, consider the song of a vulnerable Palestinian teenager some 2000 years ago.  Hers was a song of faith, of hope, of amazing grace.  "Are you OK?" we ask.  "My soul magnifies the Lord, and my spirit rejoices in God my savior . . ." she responds.  And our faith story begins again.
Be welcome to join us for Holden Evening Prayer and Mary's song.  And remember the simple way of caring for one another with the question, are you OK?  Let us listen to one another with care, and answer with veracity.
Blessings to you, O people of Trinity, and a blessed Advent.  May you be safe, may you be well, and may you be held in love.
It remains a privilege to serve as one of your pastors.
Grace and peace,
Pastor Robert Linstrom