The Children's Program, Holden Evening Prayer for Advent, a couple of concerts and Gaudete . . .
Beloved community,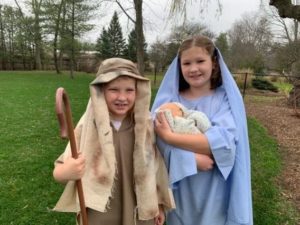 I just had the privilege of previewing the Children's Christmas Program that will be presented as part of our "virtual worship" this coming Sunday, December 13.  Please do not miss this burst of joy.  This gift will be well loved by the people of Trinity and a redemptive blessing in a time when we long for community.  The community of Trinity's children have brought us good news of great joy, truly glad tidings that are healing and filled with hope.
Join us for live streaming of worship on Sunday at 9:15 a.m., or later via our YouTube recording of worship.  The Children's Christmas Program will also be available as a separate link on our YouTube channel by Sunday afternoon.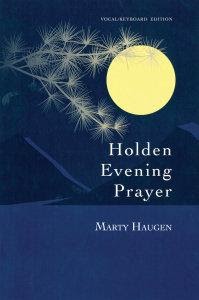 I also have the privilege of welcoming you to the second Wednesday of Advent and the opportunity to participate this evening in Advent Midweek Vespers, the service of Holden Evening Prayer.  
To view the 25-minute video worship service for this second Advent Wednesday, click here: https://youtu.be/pFWyWTR2SI0.
To access the worship bulletin for your participation in this evening's Advent Vespers service, click here: https://tlcgr.org/wp-content/uploads/2020/12/Advent-Vespers-2020-Virtual-Service-12-09-2020.pdf
We are privileged to be hosted by Pastor Dan Schewe, Pastor Frank Rothfuss and cantors Deb and Bill DeWitt for this midweek Advent worship service.  I also extend my thanks to Bryan Bredwell who crafted this beautiful video service for our devotional life together.
I'm not done yet.  Here are two concert opportunities this evening and on Friday for your virtual Advent journey to Christmas:
Stars and Promises Christmas Concert
ELCA World Hunger Benefit Concert on Wednesday, December 9 (this evening)

The ELCA World Hunger Appeal presents an online Christmas benefit concert featuring Peter Mayer, who is a longtime Lutheran and the lead guitarist for Jimmy Buffett. This concert is free and will premiere on the ELCA Facebook page at 8:00 p.m. this evening.  Click here to Learn More.
 
National Lutheran Choir Christmas Festival
Free Online Concert on Friday, December 11
The National Lutheran Choir Christmas Festival comes to audiences free in a virtual, multi-media format on Friday, December 11 at 9 p.m.  The Incarnation: For the Healing of the World brings music from around the globe announcing the birth of Christ with messages of peace and joy that nothing – not even a pandemic – can take away.  Click here to Learn More.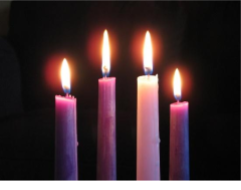 Finally, a moment of reflection.  It is not lost on me that we generally arrive at the Sunday of our Children's Christmas program on the Third Sunday of Advent, a Sunday known as Gaudete (rejoice).  In the old tradition of lighting the four candles on the Advent wreath, there were three somber purple candles and one bright pink candle for Gaudete Sunday, a burst of joy lit on the Third Sunday of Advent because Jesus draws near as Christmas approaches.  And, in this case, rejoice is a command.  When was the last time when you knew such joy you "were like those that dream" or when you have seen someone with a "mouth filled with laughter?"
 When the Lord restored the fortunes of Zion,
  then were we like those who dream.
 Then was our mouth filled with laughter, and our tongue with shouts of joy.
  Then they said among the nations, "The Lord has done great things for them."
 The Lord has done great things for us,
  and we are glad indeed.
Psalm 126:1-3, the Psalm for the Third Sunday of Advent
The texts for the Third Sunday of Advent call for rejoicing, an "we're almost there" excitement.  Isaiah couples images of a people restored with images of weddings and springtime and oak trees (Isaiah 61:1-4, 8-11).  The psalmist offers up images of a harvest festival (Psalm 126), and Paul urges us to rejoice "always" (1 Thessalonians 5:16-24).  And John the Baptist, in his own way, calls for rejoicing by his acknowledgement that he is not what we are waiting for, that his mission is to bear witness to the one who is coming, the bread of life, the good shepherd, the resurrection and the life.  John bears witness to the light that is about to dawn . . . (John 1:6-8, 19-28)
We will not hear those texts in our worship this Sunday.  Instead we will hear the Gospels of Matthew, Luke and John announcing the good news in the Christmas proclamation of our children.  Still, for those of you so inclined, open your Bibles to the scriptural references cited above and perceive the joy of Gaudete in the voices of Biblical writers filled with the Spirit.  And then, open your hearts to hear the Christmas story in the gifts that our children will bring in worship this Gaudete Sunday.
People of God, rejoice!  Even in a time such as this, rejoice.
Blessings to you, O people of Trinity, and a blessed Advent.  May you be safe, may you be well, and may you be held in love.
It remains a privilege to serve as one of your pastors.
Grace and peace,
Pastor Robert Linstrom