Shrove Tuesday, the eve of Lent
Beloved community,
On Wednesday the season of Lent begins.  Our Ash Wednesday observance at Trinity in 2021 will be primarily virtual – a link to the Ash Wednesday service recording will be included in my Wednesday email to you, along with a PDF copy of Ash Wednesday worship resources.  
That Ash Wednesday worship resources document can be accessed by clicking here: Ash Wednesday Worship Resources.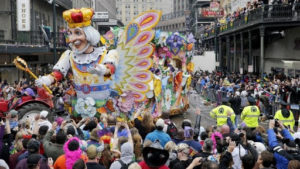 There will additionally be an "in person" option on Ash Wednesday in 2021.  Between 1 and 3 p.m. and again between 5 and 7 p.m. you will be welcome to participate in our "drive through Imposition of Ashes" at the sanctuary carport on the south side of the Trinity church building.  If this visible sign of our mortality would be meaningful to you, know that Pastor Dan and I will be onsite to provide that ashen blessing.  "Remember that you are dust, and to dust you shall return."
The day before Ash Wednesday is traditionally entitled "Shrove Tuesday."  The word "Shrove" shares its root with "shrive," meaning "absolve."  Shrove Tuesday is a day to prepare for Lenten self-examination, for absolution, considering that for which one needs to repent, and then to turn back to God and to prepare to petition God's blessings as we seek to amend our lives and grow in disciplines of the spirit.  Shrove Tuesday is also traditionally the day to burn last year's Palm Sunday palms to make the ashes that will be smeared on the foreheads of Ash Wednesday worshippers.
There is also an element of "one last celebration before Lent begins" on Shrove Tuesday.  The days celebrating Mardi Gras (French for "Fat Tuesday") or Carnival culminate on Shrove Tuesday.  In places like New Orleans and Rio de Janeiro the festival of Mardi Gras/Carnival is a time of food and drink, parties, costumes, parades, and celebration with abandon.  Indulging in foods that one may give up during the forty-day Lenten penitential sacrifice is a tradition.  Pancakes and pastries like the paczkis that show up in area grocery stores and bakeries before Lent begins are symbolic of using up "fat" before the restrained season of Lent ensues.  The last day for eating richer, fatty foods and celebrating with unrestrained feasting before the ritual fasting of Lent lends itself to unique, cultural observances on Shrove Tuesday.
A few years ago, the Associated Press carried a story about a woman in Olney, England, named Dawn Gallyot who defied snow and a biting wind to beat seven other women to the finish line in the annual Shrove Tuesday pancake race. In her first race, the 38-year-old schoolteacher made the 415-yard dash from the Bull Pub in Olney's market square to the Church of St. Peter and St. Paul, with a pancake and a frying pan in her hand, in 73 seconds. Each contestant must flip a pancake in the frying pan at the start and at the finish of the race. Mrs. Gallyot reportedly wore a traditional headscarf and apron but opted for modern running shoes.  It was said that she was ecstatic upon winning the annual race.  "I have wanted to do it for a long time, but I made no real preparations," she said. 
Shrove Tuesday is known in England as Pancake Day, traditionally the last day for merrymaking before the start of Lent. Pancakes are thought to be a good way to get in the eggs and fat that faithful church people were supposed to give up for Lent. Legend has it that the Olney race started in 1445 when a housewife, dashing to get to church on time, arrived at the service clutching in her hand a frying pan with a pancake still in it.
Lent has become associated with fasting and denial. Even today many people talk about giving up something during Lent. Some stop eating meat. Some give up coffee. For others it's chocolate or desserts. That's all well and good, but the real intent of Lent is that should we look within. We should change our hearts and not necessarily our diets.
The Gospel for Ash Wednesday provides the teaching of Jesus from his Sermon on the Mount.
 [Jesus said to the disciples:] Beware of practicing your piety before others in order to be seen by them; for then you have no reward from your Father in heaven.
  . . . whenever you fast, do not look dismal, like the hypocrites, for they disfigure their faces so as to show others that they are fasting. Truly I tell you, they have received their reward. But when you fast, put oil on your head and wash your face, so that your fasting may be seen not by others but by your Father who is in secret; and your Father who sees in secret will reward you.
Matthew 6:1, 16-18

Jesus taught that God doesn't want an outward display from us. God wants us to change our hearts. God wants a change within, and that change becomes our Lenten discipline.  The prophet wrote, 
Yet even now, says the Lord,
  return to me with all your heart,
 with fasting, with weeping, and with mourning;
  rend your hearts and not your clothing.
 Return to the Lord, your God,
  for he is gracious and merciful,
 slow to anger, and abounding in steadfast love . . .
Joel 2:12-13
Tomorrow is Shrove Tuesday, the eve of Lent.  So, enjoy a pancake, a pastry, or a paczki if that is your tradition.  Then prepare for a season of repentance and renewal, rending your heart and not your garments, offering a humble fast of the heart before a gracious and merciful God.
Blessings to you, O people of Trinity.  May you be safe, may you be well, and may you be held in love.
It remains a privilege to serve as one of your pastors.
Grace and peace,
Pastor Robert Linstrom