Contemplation in a World of Action, and a contemplative gift from the Tasmanian Symphony Orchestra Chorus
Beloved community,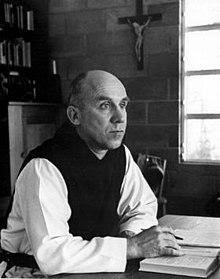 Today is the birthday of Thomas Merton, born in Prades, France, in 1915. While a student at Columbia University, he decided to write his master's thesis on William Blake, and found himself deeply influenced by him. After a few more years of study, Merton converted to Christianity, and in 1941 entered a Trappist abbey in Kentucky, where he lived for most of his life. He wrote in his diary: "Going to the Trappists is exciting. I return to the idea again and again: 'Give up everything, give up everything!'" 
Merton's superiors at the monastery noticed his talent for writing and encouraged him to pursue it; Merton wrote more than 70 books over the course of his lifetime, along with 2,000 poems and many essays and lectures. Many of his books combine theology, politics, and interreligious dialogue, particularly with East Asian religious traditions and their connections with Christianity.  He's perhaps best known today for his spiritual autobiography, The Seven Storey Mountain, which ends with the line: Sit finis libri, non finis quaerendi ("Here ends the book, but not the searching").  Merton died on December 10, 1968.
In 1973, Image Books published a series of Merton's essays in a collection entitled Contemplation in a World of Action.  I have had the text on my bookshelf since my seminary days in Chicago.  As a devotion for today, I offer a couple of paragraphs from the chapter bearing the books' title.  Merton writes:
When I speak of the contemplative life I do not mean the institutional cloistered life, the organized life of prayer . . .  Prescinding from any idea of an institution or even of a religious organization, I am talking about a special dimension of inner discipline and experience, a certain integrity and fullness of personal development, which are not compatible with a purely external, alienated, busy-busy existence.  This does not mean that they are incompatible with action, with creative work, with dedicated love.  On the contrary, these all go together.  A certain depth of disciplined experience is a necessary ground for fruitful action.  Without a more profound human understanding derived from exploration of the inner ground of human existence, love will tend to be superficial and deceptive.  Traditionally, the ideas of prayer, meditation and contemplation have been associated with this deepening of one's personal life and this expansion of the capacity to understand and serve others.
. . . Prayer and meditation have an important part to play in opening up new ways and new horizons.  If our prayer is the expression of a deep and grace-inspired desire for newness of life – and not the mere blind attachment to what has been familiar and 'safe' – God will  act in us and through us to renew the Church by preparing, in prayer, what we cannot yet imagine or understand.  In this way, our prayer and faith today will be oriented toward the future which we ourselves may never see fully realized on earth.  1
The call to prayer, meditation and contemplation remain with us decades after Merton wrote this reflection in a "world of action."  I hope that you can build contemplative discipline into your pandemic 'exile' and that such discipline will persist in a return to 'normal.'  Nurturing spirituality is a persistent calling in the life of faith, but one that is often sacrificed to our "busy-busy" day to day life journey.
Through the years, in addition to inspiration by spiritual voices like Thomas Merton, I have found a contemplative partner in music.  Whether singing a liturgy or attending a concert, some of the most meditative and prayerful moments I have known have been accompanied by musical offerings.  
Carrie Hoeksema shared this short video with me last week and it is my privilege to share it with you.  The YouTube credit reads, "Throughout the winter months of 2020, members of the Tasmanian Symphony Orchestra Chorus gathered at dawn to support each other through this troubled time, and to voice their gratitude for the beauty surrounding them.  Despite the freezing temperatures, they were overjoyed to be outdoors harmonising with other voices.  'The Ground' became their anthem."
'The Ground,' from the Sunrise Mass by Norwegian composer Ola Gjeilo, as sung by the Tasmanian Symphony Orchestra Chorus, is accessible via the link below.  The Latin and English translations are printed below the link.  I hope that you will receive this short musical gift as a blessing for your own contemplative journey and another blessing that bears the imprint of our long pandemic exile:
Lyrics and translation:
Pleni sunt caeli et terra gloria tua. Osana in excelsis. Benedictus qui venit in nomine Domina. Benedictus qui venit. Osana in excelsis. Agnus Dei, qui tolis peccata mundi. Dona nobis pacem.
Heaven and earth are full of your glory. Hosanna in the highest. Blessed is he who comes in the name of the Lord. Blessed is he who comes. Hosanna in the highest. Lamb of God, who takes away the sins of the world. Grant us peace.
Blessings to you, O people of Trinity, as you journey in prayer, meditation, and contemplation.  May you be safe, may you be well, and may you be held in love.
It remains a privilege to serve as one of your pastors.
Grace and peace,
Pastor Robert Linstrom