Remembering Bach and Handel, Davey and Goliath, and the Gift of "One Silent Minute" from Mr. Rogers
Beloved community,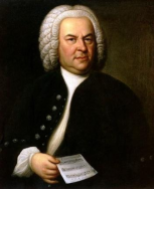 Yesterday, March 21, was the birthday of Johann Sebastian Bach.  Born in Eisenach, Germany, in 1685, Bach worked as the city of Leipzig's director of church music for most of his life, composing a cantata every single week (and later, every month). Amid these demands, he composed a wide range of classic theological work, including The Passion According to St. John (1723), The Passion According to St. Matthew (1729), and the Mass in B minor (1733). After his death, later composers realized that even the exercises he wrote for his music students were themselves masterpieces.
Bach said, "I play the notes as they are written, but it is God who makes the music."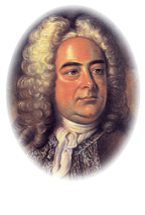 Tomorrow, March 23, is the day in 1743 that George Frideric Handel's "Messiah" had its London debut performance.  During the now-famous Hallelujah Chorus, King George II rose to his feet, the story goes, so moved was he by the cascading voices — and the audience, seeing the king stand, scrambled to join him. Thus was born the tradition of standing during the chorus, widely practiced to this day. 
Though Handel's oratorio is now commonly performed at Christmastime, as it is here at Trinity Lutheran Church in Grand Rapids, Handel wrote it for this time of year: the season of Lent and Easter.
I give thanks for Baroque masters Bach and Handel, and all the composers and musicians who bring the arts to our proclamation of the Gospel in every age.  As we have returned to worship at Trinity, I have deeply missed our congregational song – I look forward to the day when that expression of our praying the liturgy returns.
On a whole different level of the arts, the stop-motion animated television series "Davey and Goliath" is marking its 60th anniversary.  The series was conceptualized by the United Lutheran Church, a predecessor body to our ELCA, and premiered in February 1961.  The two and a half minute video link below remembers the "Davey and Goliath" series, which touched the lives of millions around the world, a legacy of faith teaching that still offers a simple story with wonderful teachings for children and their parents. All 74 episodes of this award-winning series can be accessed via YouTube.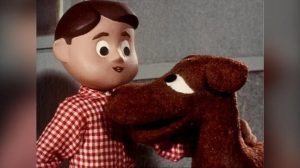 Fred Roger's birthday was last Saturday, March 20, the first day of Spring, and so the time is right to again honor and remember this extraordinary teacher and pastor to millions. The documentary on his life and work, "Won't You Be My Neighbor?" is a wonderful gift and not to be missed (you can view the official trailer for the documentary here: https://youtu.be/FhwktRDG_aQ).  The documentary ends with a lovely homage to a famous Mr Rogers moment.
The moment's not from the sweet, challenging, and revolutionary children's television show many of us grew up watching, but instead from Rogers' 2002 Commencement Address at Dartmouth College.  Rogers was a Presbyterian minister whose ministry knew no bounds.  Here's an amazing gift from that old friend to the class of 2002:
I'd like to give you all an invisible gift. A gift of a silent minute to think about those who have helped you become who you are today.  Some of them may be here right now.  Some may be far away.  Some, like my astronomy professor, may even be in heaven.  But wherever they are, if they've loved you, and encouraged you, and wanted what was best in life for you, they're right inside your self.  And I feel that you deserve quiet time, on this special occasion, to devote some thought to them.  So, let's just take a minute, in honor of those that have cared about us all along the way.  One silent minute . . .
Whomever you've been thinking about, imagine how grateful they must be, that during your silent times, you remember how important they are to you.  It's not the honors and the prizes, and the fancy outsides of life which ultimately nourish our souls.  It's the knowing that we can be trusted.  That we never have to fear the truth.  That the bedrock of our lives, from which we make our choices, is very good stuff.
Perhaps we can each take "one silent minute" to remember the musicians and artists, the teachers and mentors, our parents, our grandparents – all of those who loved us, encouraged us, and cared for us along the way.  Consider this discipline, "one silent minute," for the Monday after the Fifth Sunday in Lent, as we proceed to the journey of Holy Week in the days ahead . . .
My sisters and brothers, may you be safe, may you be well, and may you be held in love.
It remains a privilege to serve as one of your pastors.
Grace and peace,
Pastor Robert Linstrom