Holy Week at Trinity and in our heritage, and April Fools' Day . . .
Beloved community,
The people of Trinity will gather "in person" and via live streaming for the services of Holy Week in 2021.  A month into our return to "in person" worship, we will gather in Centennial Hall and in the sanctuary so that we can share the services of Holy Week with those who gather and those who are worshipping at home.  Join us as we get to the heart of our faith story in worship.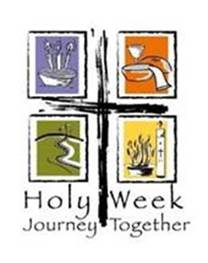 Maundy Thursday, April 1
We worship at 7 p.m. with Confession and Forgiveness, a Washing of Hands, Holy Communion, and the symbolic Stripping of the Altar.  This service will be offered in Centennial Hall in 2021 to allow for live streaming of worship.
Good Friday, April 2 
Worship is scheduled at 7 p.m., the Adoration of the Crucified, a service of Passion and Prayer that concludes in silence. We will center our Good Friday liturgy on the Passion According to St. John and the Bidding Prayer of the Church.  This service will also be offered in Centennial Hall to allow for live streaming of worship.
Easter Sunday, the Resurrection of Our Lord, April 4 
We will gather for festival liturgies at 8, 9:15 and 10:45 a.m. The 8 and 10:45 a.m. services will be traditional services offered in the sanctuary with the 9:15 a.m. Rejoice service in Centennial Hall to support live streaming of Easter Sunday worship.  Be with us in a festival of praise and our glad alleluias as a counternarrative to the long year of pandemic separation! 
April 1 is Maundy Thursday, and "maundy" comes from the Latin mandatum, "command" or "mandate," a reference to the "new commandment" Jesus gives his disciples on the eve of his death: "I give you a new commandment, that you love one another. Just as I have loved you, you also should love one another" (John 13:34).  Not an abstract or generic "love," then, but a love "just as I have loved you" – compassionate and tangible, as simple and strong as kneeling to wash someone's feet and then drying them with a towel (John 13:1-15).
April 2 is Good Friday, commemorating the crucifixion of Jesus of Nazareth. All four Gospels link the crucifixion to Passover, a clear signal that we should understand his death first and foremost as a sign that God is once again, in the cross of Christ, liberating God's people, inaugurating a New Exodus in the tradition of the exalted exodus from Egypt.
April 3 is Holy Saturday, for Christians a day of silence and waiting, and also the day, according to tradition, when Jesus "descended into Hell" to free those held captive there. It is a day of shadows and ambiguity, a time of mourning and hope-against-hope. Holy Saturday's silence is broken by the "Alleluia" of the late-night Easter Vigil — or the dawn of Easter morning.
April 4 is Easter Day, the Resurrection of Our Lord.  Christ is risen! Jesus is alive, and God has swallowed up death forever. With Mary Magdalene, Mary the mother of James, and Salome, we may feel astonished and confused, unsure of what to make of the empty tomb. But this is why we gather: to proclaim, witness, praise, and affirm the liberating reality of Christ's death and resurrection. In word and feast, we celebrate God's unending love, and depart to share this good news with all the world. Alleluia!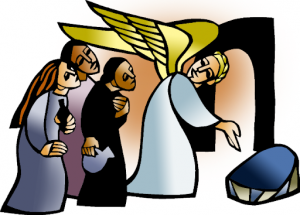 April 1, Maundy Thursday, is also April Fools' Day, a day for benign foolishness, tricks, pranks, and other nonsense. In 1983, Professor Joseph Boskin, an historian at Boston University, explained that the practice dates to the Roman Emperor Constantine, whose jesters challenged him that a fool could run the empire as well as he could. The emperor accepted the challenge and appointed a jester "king for a day" — and one the new king's first actions was to decree an annual day of tomfoolery.
After interviewing Professor Boskin, the Associated Press published the story nationally — and only later 
realized that Boskin, true to the spirit of the day, had made the whole thing up!
Even during the somber days of Holy Week, it is a privilege to smile when one is pranked . . .
Holy Week blessings, good people of Trinity.  May you be safe, may you be well, and may you be held in love.
It remains a privilege to serve as one of your pastors.
Grace and peace,
Pastor Robert Linstrom