Beloved community,
Please know the invitation to join the people of Trinity in Lenten Midweek Worship, the service of Compline, Prayer at the Close of the Day.  You can access the recording of this Wednesday's service here:
The March 3 service is a recording available on Trinity's YouTube channel and can be accessed at your convenience for a midweek worship experience during Lent of 2021.  Larry Biser offers meditative piano music to open and close the liturgy and Pastor Dan offers brief homilies in different community settings over the course of this five-week worship series.  I have the privilege of serving as liturgist for our offerings of Compline in 2021.
Come, O people of God, come and let us worship.
✠ ✠ ✠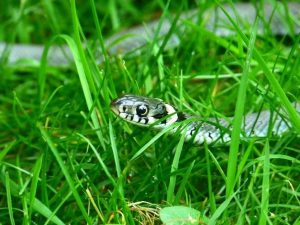 In one of his classic sutras (teachings), Gautama Buddha tells his disciples that understanding his instruction is like picking up a poisonous snake in the wild; if you don't know how to hold it, it's all too easy to get bitten. In fact, he says, it's entirely possible to misinterpret his teaching to mean the opposite of what he actually intends – not 10 degrees to the left, or 20 degrees to the right, but 180 degrees off-target, the reverse of what he means. If you pick up a snake in the middle of its body, it can easily turn and bite — but if you get a forked stick and pin the snake behind its head, and then pick up the snake just behind its jaws, you'll be safe and sound. So it is with understanding my teaching, says the Buddha.  It's not simply a matter of hearing the teaching or being able to recite it — it's about holding it in the right way. 
To shift the metaphor: a scalpel can be used to save life or to end it. Ideas are dangerous and can do significant damage if they aren't handled with skill and care.
Last Sunday in the Gospel of Mark, we came face to face with arguably the most difficult, challenging, and dangerous of Jesus' teachings: the idea that Jesus must suffer, die, and rise again, and that anyone who seeks to be his disciple must "deny themselves and take up their cross and follow me" (Mark 8:34). The disciples are perplexed, Peter is offended, and Jesus takes them to task for misunderstanding him — and so we should be cautious about whether we understand him ourselves. Every year in Lent we come to this challenging teaching on our journey to the cross.  There are snakes slithering in the grass here, and if the disciples are any indication, mistaken conclusions abound.  We have to know how to 'hold' this teaching.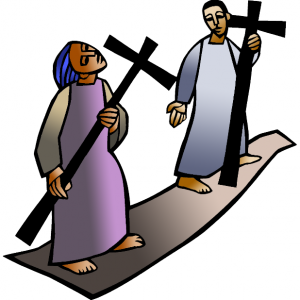 In Mark, this is the first of three cycles in which (a) Jesus predicts his passion, (b) the disciples misunderstand, and (c) Jesus responds with a discourse on the true nature of discipleship (see Mark 9:31-50 and 10:33-45 for the other two cycles).  There are challenging, enigmatic, and generative ideas here. They're meant to be wrestled with for a lifetime; they don't reduce to a single formula or slogan. For millennia, Christians have been debating how best to understand the cross and the empty tomb, and no ecumenical church council has ever been called to settle the question. This openness itself is instructive – we are dealing here with great mysteries, and multiple ways of understanding them are both possible and, perhaps, welcome.  Such mysteries are not perceived by simply hearing the teaching or reciting it.  Such mysteries require and openness that is best held by faith.
The cross and the empty tomb, our story on Good Friday and Easter Sunday, are at the heart of Christian faith.  Jesus shows us love and mercy even unto death and, by rising from the dead, defeats death-dealing forces once and for all.  Jesus subversively transforms some of the worst things in the world (the Roman cross and betrayal among friends) into some of the best things in the world (the Tree of Life and forgiveness among enemies), effectively proclaiming that God will redeem everything in the end.   In the cross of Christ, God declares compassionate solidarity with all those who suffer.  
Still, there are plenty of snakes in the grass here, plenty of ways to get bitten. One is to understand messiahship in terms of military conquest and self-centered gain. Another is the myth of redemptive violence, the idea that suffering itself can save. Yet another is the notion that we are called to pursue suffering, the better to participate in Jesus' passion. 
Like a snake found in the grass, we need to hold the teaching of Jesus the right way.  True messiahship is about compassion, not conquest. Suffering doesn't save; rather, God saves, and one of the things God saves us from is our violent ways, including our destructive ideas about the redemptive powers of violence and suffering. Likewise, Jesus doesn't call us to pursue or prolong suffering; rather, he calls us to end or alleviate suffering whenever possible, and when suffering can't be avoided, to "take it up" and follow Jesus, our healer and liberator, into God's dawning new world where "mourning and crying and pain will be no more" (Revelation 21:4, Isaiah 25:8).
As I said on Sunday, the "take up your cross and follow me" directive of Jesus to his uncomprehending friends is an invitation that we do not want to hear and a call to walk a way no one wants to go.  There are plenty of snakes in the grass here.  Again, such teaching is meant to be wrestled with for a lifetime, and the call of Jesus does not reduce easily to a single formula or slogan. We are dealing here with great mysteries, and multiple ways of understanding them are both possible and, perhaps, welcome.  Let us hold the mystery of the cross and the empty tomb with great care.
Blessings to you, O people of Trinity.  I hope that our offerings of Compline on the Wednesdays of Lent in 2021 provide a measure of meaningful devotion on your Lenten journey.  May you be safe, may you be well, and may you be held in love.
It remains a privilege to serve as one of your pastors.
Grace and peace,
Pastor Robert Linstrom