An Unexpected Friendship
Some have noted that the polarized political climate of our time is unprecedented in recent America history.  Into that deep divide, a small story in our national news in the late winter of 2020 is worthy of our consideration.  I had read about Rashid and Dillon back in March, but the news of their encounters faded quickly in that time of pandemic shutdown.  A month before, neither Qasim Rashid nor Oz Dillon could have predicted that they would find a bridge over the political divide in our country, and that they would find friendship with one another.
In January of 2020, Democrat Qasim Rashid, an attorney and Muslim immigrant from Pakistan, announced his bid to represent Virginia's 1st Congressional District in the U. S. Congress.  The 1st District has been represented by a Republican since 1977. If he would win, one of his constituents would be Oz Dillon, 66, of Fredericksburg, Virginia, a conservative who had posted several hate-filled messages about Rashid and his faith on social media.
"We do not need you[r] ilk in our nation. Let alone in any seat of office above street sweeper," Dillon wrote. 
"I didn't believe there was a place for [Muslims] in our government," said Dillon.
In early March, Rashid tweeted that, while he had been deeply hurt by Dillon's anti-Muslim tweets, he had discovered that Dillon was struggling with overwhelming medical bills after his wife Terri suffered a pulmonary embolism. So, Rashid announced that he was donating $55 to Dillon's GoFundMe account. 
"Healthcare is a human right and I hope and pray for nothing but healing for this family," Rashid wrote. Then he encouraged his 400,000 followers to do the same if they could.
And give they did. As of the end of March, the fundraiser had raised the entire goal of $26,237, with many givers citing Rashid's example as the reason for their contributions. 
"And my mind was just a whirlwind, a tornado of – what the heck have I done?" Dillon said. Rashid had "reached across that gap [between us] and took my hand," he added.
"You humble me sir, with your graciousness, and surprisingly kind words," Dillon wrote to Rashid. "Given how I have misspoken about you in posts on Facebook, I am truly shocked, that you have shared my wife and my plight with your supporters. I must now reassess my opinion about you, and your platform, come November."
"He asked for forgiveness," Rashid said, to which he replied, "There's nothing to forgive. You're my brother in humanity.'"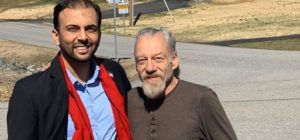 Dillon asked Rashid to come for a visit. On March 8, the two met in person for the first time.
"Today I met my new friend Oz.  I look forward to the beginning of a wonderful friendship." Rashid tweeted.
"The first thing I said to [Dillon when we met] was, 'I'm not doing this for any favor,'" Rashid emphasized. "And [Dillon] responded, 'That's fine, but I need you to put your yard sign for your campaign in my lawn so everyone can see it.'" But whether Rashid would earn Dillon's vote was "not what it's all about," Rashid insisted.
Dillon expressed gratitude for everything he had already learned from Rashid.
"An amazing week of eye and heart opening enlightenment, that I used to always have before 9/11," he wrote online. "Qasim Rashid, who I had previously opposed politically just because of the word Muslim, has opened my eyes that there are GOOD people in all walks of life."
One person who donated to eliminate Dillon's debt, Satish Wasti, stated: "Qasim Rashid's tweet brought me here [to Dillon's GoFundMe page]. We all have something to learn from Rashid's kindness and Oz's moral courage and his ability for self-criticism. Thanks to both Rashid and Oz for showing us that love and compassion can prevail."
For several years, the people of Trinity have been invited to pray for our three "Standing Together" interfaith partners, Temple Emanuel, Masjid at-Tawheed and Westminster Presbyterian Church, reminding ourselves Sunday to Sunday that building bridges across cultural divides with our sisters and brother of other faiths needs to be a discipline of intentionality.  "We pray for those who worship you in different ways; guide us to unity and harmony so that we may come to respect and cherish our commonalities," we pray.  The people of Trinity have added hands and feet to their prayers with participation in interfaith events and shared service projects with interfaith partners.  I remain hopeful that the discipline of our weekly intercession translates into growing understanding and celebration of our shared community.  Certainly, in a time such as this, when we affirm that "we are all in this together" in our battle with the COVID-19 pandemic, we can also be encouraged by the story of a Muslim candidate for congress and his newfound commonality with a prospective constituent.  Even in the political realm, we are all in this together.    
Rashid's campaign yard sign in Dillon's lawn provided a simple message to the community, a call for a return to civility and respectful dialogue in our public discourse.
"If we can do that, then our prayers will be blessed and our actions will be blessed," Qasim said. 
"And our lives and our children will be blessed," Oz said.  
"Amen to that," Qasim added. "Amen to that."
My friends and fellow bridge builders, blessings to you on this Wednesday of the fifth week of Easter.
Grace and peace,
Pastor Bob Linstrom
More on the story of Rashid and Dillon can be found at these links:
A Man Sent a Hateful Message to a Muslim Candidate. He Responded With a Call For Help. CBS News
Unlikely Friendship After Political Candidate Helps Pay Medical Debt of Man Who Sent Racist Tweets. FOX43.com