"How can I be discouraged?  We are all children of God . . ."
We met Noor Awad when we passed through the checkpoint from Jerusalem to Bethlehem.  He would be our tour guide while in the town of Jesus' birth; our Jewish Israeli guide had not been granted the required permit to enter the West Bank town of Bethlehem.  Noor was a fluent English speaker and well-versed in the aspirations of Christians making pilgrimage to the Church of the Nativity.  With his guidance we were blessed with a deeply meaningful visit as we continued our journey to encounter the sacred sites of the three Abrahamic faiths, of Judaism, Christianity and Islam.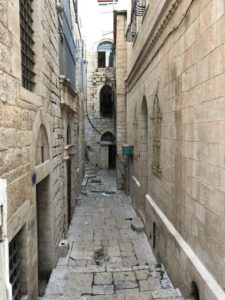 After leaving the church, we joined Noor for a walk into the back alleys of Bethlehem, to a small meeting room where we were greeted by Rabbi Hanan Schlesinger for one of the conversations that were essential to our experience of Israel on that intentionally interfaith pilgrimage.  Rabbi Schlesinger, an Orthodox rabbi and Zionist settler, and Noor Awad, a young Palestinian Muslim tour guide who grew up near Jerusalem, were together part of a network called "Roots-Shorashim-Judur."  "Roots" is a joint Palestinian-Israeli grassroots peacemaking initiative dedicated to understanding, nonviolence and transformation.  Hanan and Noor led us in a conversation that afternoon that was eye-opening and hope filled.  Their mission with Roots reflected a belief that human contact and dialogue will prepare the ground from which justice and freedom, peace and security, can take root.
The photographs of Hanan and Noor in this communication are from that afternoon meeting in January of 2018 in a small room off a Bethlehem alleyway.
The day in Bethlehem was a high point during our two weeks in the Holy Land.  Our visit at the Church of the Nativity evoked a quiet sense of sacred space, whether or not it was the real site of Jesus' birth.  A visit to the cave shrine under the sanctuary floor, the exceptional sacred art, the gathering of religious pilgrims and the story of the Nativity of our Lord spoken with a distinctive Palestinian inflection, all combined to shape an extremely meaningful moment on our tour.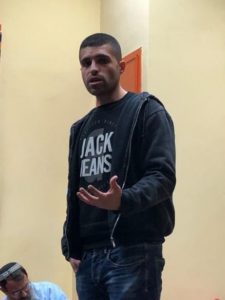 However, the couple of hours spent hearing the stories and the vision shared by two who seemed to be impossibly divided by their ethnic and religious stations in life and in the partitioned nation of Israel was the unexpected privilege of our Bethlehem sojourn.  The small, grassroots initiative called Roots did not reflect the well-known public face of the Israeli-Palestinian conflict that makes the headlines and influences international policy.  In some ways, their effort at understanding and transformation could be deemed a failure, making such a small impact in the geopolitical realities of the tension and conflict in the Middle East.  When asked if he became discouraged by the lack of progress toward a lasting peace, a two-state solution, and understanding between their peoples, Noor replied, "How can I be discouraged?  We are all children of God, and it is our calling to speak peace into our broken world."
Dr. Muli Peleg of Rutgers University writes, "As an Israeli peace activist, I truly believe Roots has found the most genuine, although arduous and occasionally frustrating, path to peace: the bottom-up, grass root path, not between theoreticians and self-righteousness redeemers, but between actual neighbors, who live and experience the conflict on a daily basis. They can appreciate more than anyone else the meaning of reconciliation founded on equality, dignity and justice."
I was made to recall my encounter with Noor Awad and Hanan Schlesinger for two reasons as I begin a new week with all of you, the people of Trinity Lutheran Church.  First, I heard Noor's calling to claim our places as children of God in a little writing by Marianne Williamson, often mistakenly attributed to Nelson Mandela, from her 1992 text Return to Love.  I shared this excerpt yesterday in my homily, reflecting on our call to open the doors of our lives as people of the resurrection, and to change the world:
Our deepest fear is not that we are inadequate.  Our deepest fear is that we are powerful beyond measure.  It is our light, not our darkness, that most frightens us.  We ask ourselves, who am I to be brilliant, gorgeous, talented, and fabulous?  Actually, who are you not to be?  You are a child of God.  Your playing small doesn't serve the world.  There's nothing enlightened about shrinking so that other people won't feel insecure around you.  We are all meant to shine, as children do.  We are born to make manifest the glory of God that is within us.  It's not just in some of us, it's in everyone.  And as we let our own light shine, we unconsciously give other people permission to do the same.  As we are liberated from our own fear, our presence automatically liberates others.
We are children of God, not called to play small or shrink into the darkness, but "born to make manifest the glory of God that is within us."  With Noor and Hanan and all the others who seek an unlikely peace in our world, in Israel, and in their small community of dialogue and understanding, our destiny in our shared identity as children of God is intertwined.  Their peace is our peace.
The other reason I was made to remember my 2018 alleyway gathering with Noor and Hanan was that I was with them again last week via Zoom.  It was Nakba Day, May 15, when Palestinians recall the catastrophe that befell them during the 1948 War, when the Zionist forces displaced an estimated 700,000 Palestinians who fled or were expelled from their homes, and when hundreds of Palestinian towns and villages were emptied and destroyed.  The Roots network in Israel had organized a panel of three Palestinians to speak of that solemn Remembrance Day last Monday and the impact of the last 70 years on the Palestinian community.  Noor Awad was one of the three Palestinian panelists, and he spoke with eloquence on behalf of generations of his family who remember Nakba Day as one of history's most tragic applications of ethnic cleansing.  The three panelists were joined by Rabbi Schlesinger, who served as host and moderator for the panel discussion.  The Zoom audience was a global community, including those of us who, identifying as children of God, perceive a calling to speak peace into our broken world.  
My sisters and brothers in Christ, I could, and inevitably will, go on.  For today, I simply offer in my encounter with the Roots community one more effort, modest but persistent, to bring God's will into our broken world.  With grassroots efforts like Roots, led by an orthodox rabbi/Israeli settler and a Palestinian tour guide in the countryside and towns their divided nation, I have come to know an extraordinary peacemaking initiative dedicated to understanding, nonviolence and transformation that gives me hope.  We are reminded that each of us can choose to align ourselves with such a desire to build bridges across the chasms of misunderstanding, hatred and violence in our time.  After all, "we are born to make manifest the glory of God that is within us."
A blessed Monday in the sixth week of Easter my friends.
Grace and peace,
Pastor Bob Linstrom
For more information about Roots-Shorashim-Judur, visit, https://www.friendsofroots.net/.