"God made humans because God loves stories . . ."
Beloved community,
Back in mid-March, as Trinity had organized its closure to "in person" gathering, we anticipated returning for worship before Easter.  On March 19, we initiated a new recommendation, based on synod consultation, that our closure be extended to May 10.  A member of our Congregation Council leadership replied at that time, "As much as I don't want to, I agree, but I can't imagine Holy Week without worship together."  Since that time, our closure has been extended until further notice.
Part of the reason that this time of "stay at home" distancing is so difficult to integrate into the expectations of our lives is that our unfolding 'story' as a people is undergoing an unexpected and unwelcome change.  For many of us, the journey through the liturgies of Holy Week is the central time each year for the faith community gathered in worship.  We recount the story of Jesus' triumphant entry into Jerusalem, his presiding at the Last Supper in the upper room, praying in the Garden of Gethsemane, dying on Golgotha hill and, finally, conquering death itself as we gather before the empty tomb and sing our proclamation of resurrection.  The unfulfilled aspiration to gather and tell the central story of our faith has been joined with our personal and family stories as they have also been overturned in the spring of 2020.  Family gatherings for Easter worship, Easter egg hunts and Easter dinner could not be the same.  Spring break travel was cancelled and the expected return to complete the school year for preschoolers through graduate students was transitioned to childcare and online learning.  Most were directed to work from home or to simply go home without their work.  Graduation celebrations, baptisms, weddings and Memorial Services have been postponed and the gathering of friends to share good company has been redirected to online video chats.
Our 'story' is different, but it is essential to care for our story in this remarkable time.  We will always have the story of the COVID-19 pandemic, of heroes and heroines on the front lines, of loved ones who survived and did not survive the virus, of economic upheaval and recovery, and of how we sustained the vitality of life's journey as we sheltered in place.  Rabbi Joseph Edelheit wrote, "When it is safe, we will gather to hug, kiss, laugh, yell, and yes, surely cry about these events . . .  Most of all, we must share and tell our stories because surely this is what we all need to feel more human." 1
In his essay, Edelheit remembered that Holocaust survivor Elie Wiesel told this little story about the power of stories, concluding that God made humans because God loves stories: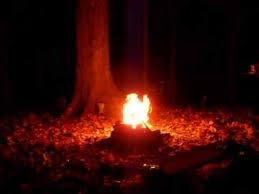 When the great Rabbi Israel Baal Shem Tov saw misfortune threatening the Jews it was his custom to go into a certain part of the forest to meditate. There he would light a fire, say a special prayer, the miracle would be accomplished, and the misfortune averted. 

 
Later, when his disciple, the celebrated Magid of Mezritch, had occasion, for the same reason, to intercede with heaven, he would go to the same place in the forest and say: "Master of the Universe, listen! I do not know how to light the fire, but I am still able to say the prayer." And again, the miracle would be accomplished. 

 
Still later, Rabbi Moshe-Leib of Sasov, in order to save his people once more, would go into the forest and say: "I do not know how to light the fire, I do not know the prayer, but I know the place and this must be sufficient." It was sufficient and the miracle was accomplished. 

 
Then it fell to Rabbi Israel of Rizhyn to overcome misfortune. Sitting in his armchair, his head in his hands, he spoke to God: "I am unable to light the fire and I do not know the prayer; I cannot even find the place in the forest. All I can do is to tell the story, and this must be sufficient." And it was sufficient. 
And it was sufficient.  Wiesel's account testifies to the power of stories, and the stories of this pandemic and how our lives were changed forever will need to be told.  We may not know the prayers to pray as we seek to intercede with God in our social isolation, and we may not know quite how to worship in front of a television or device screen.  Our live streaming of 'virtual worship' on Easter Sunday was not a great Easter, we were left hungry for the sacrament and dissatisfied with 'virtual' participation, and we missed the joy, laughter and arguments of family gathering in our Easter celebration.  But we will gather again, and we will have stories to tell.  Perhaps it is time to begin taking stock of those stories, from the voices of elders and loved ones who share this life journey and from our own lives.
For the people of the faith community, we have a story that will sustain us, the story of God present in every circumstance of life's journey, a God of blessing and mercy.  When we do not have the words to pray, all we can do, in the face of life's greatest challenges, is confess the sustaining, healing power of that faith story.  And it will be sufficient.
A blessed Eastertime friends.
Grace and peace,
Pastor Bob Linstrom
1 "Stories Make us Human" by Rabbi Joseph A. Edelheit, in the publication "Sightings," from the Martin Marty Center for the Public Understanding of Religion at the University of Chicago Divinity School, April 23, 2020.