Give us faith to go out with good courage . . .
O Lord God, you have called your servants
to ventures of which we cannot see the ending,
by paths as yet untrodden,
through perils unknown.
Give us faith to go out with good courage,
not knowing where we go,
but only that your hand is leading us,
and your love supporting us.
Through Jesus Christ our Lord,
Amen.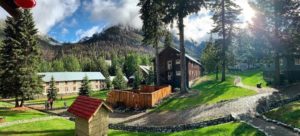 Many years ago, a 24-year old graduate student left the seminary in Chicago and made his way to a remote mountain retreat center in the Cascade Mountains of Washington state.  Uncertain of his sense of vocation as an ordained minister within the institution of the church, he had withdrawn from the seminary and signed on for six months on the staff of the village, to make a wilderness retreat in the mountains, in exchange for room and board.  Two weeks after arriving in that valley, an amazing young woman stepped off the steps of the old bus that had brought her up the mountain for a six-week staff immersion in the village, and he was intrigued.  Soon he was smitten.  It took a couple of years before the young couple finally came together in Chicago and began life's sojourn together, but the relationship that had its advent in that mountain valley culminated in the marriage of Rebecca Johnson and Robert Linstrom.  
I could not have hoped for a more wonderful outcome from that initial time of uncertain wilderness retreat.
After years speaking of Holden Village in the Cascades since arriving as the Senior Pastor of Trinity, we finally determined that a contingent of "Trinity Travelers" would make the pilgrimage to that remote destination in the summer of 2020.  When the final count of our delegation was in, 52 of us had committed to make our way cross country, make passage 40 miles up Lake Chelan via ferry, complete the last 11 miles and 2000 feet of elevation gain on an old bus, and arrive for a week in the village, followed by reversing that whole meandering route to return home.  Excitement was building, along with some trepidation, as deposits were made, and ferry tickets purchased.  Flights and lodging were being reserved, and some were seeking new footgear suitable for walking in the mountains.  As the summer teaching faculty was announced and the Trinity Travelers organized themselves for a significant adventure, the COVID-19 pandemic arrived in the United States.  Late in Holy Week, we received word that Holden Village would be closed to visitors for the whole summer of 2020.
The prayer above, the "Good Courage" prayer, is prayed each weekend as the staff and guests at Holden Village bid farewell to those who were leaving that mountain valley to return home.  At the time of my first residency in that valley, the prayer evoked for me the vocational quest that I was undertaking, and the hiking and backpacking that had become a passion while living in the Glacier Peak Wilderness Area.  As I encounter that prayer today, the call to good courage is amid global pandemic, and it becomes a prayer for those on the frontlines of the battle with the COVID-19 threat in our world, and those whose livelihoods have been made uncertain.  Even for those of us who are primarily sheltering in place, the prayer for good courage in the face of this time of separation, distancing and disease is a prayer that has meaning.
 "Give us faith to go out with good courage, not knowing where we go, but only that your hand is leading us, and your love supporting us."  Since first praying that prayer a lifetime ago, I found a vocation in the church after all, serving congregations in Detroit, Lansing, Jersey City, South Haven and now Grand Rapids.  I have been blessed with a marriage of 35 years to the love of my life and with the raising of our three sons, now young adults who continually amaze me with their intellect, engagement and passion for life.  And from time to time, life's journey has been difficult.  But throughout the journey, the little "good courage" prayer has spoken to me with a simple call to sojourn with confidence.  Perhaps it is a prayer that will speak to you with some like relevance.
It remains a privilege to serve as one of your pastors.  Join us in live streaming of "virtual worship" this Sunday:
Fifth Sunday of Easter, May 10 at 9:15 a.m.
Grace and peace,
Pastor Bob Linstrom