A Love Supreme
Beloved community,
Some of you know that I love jazz.  I am not particularly enamored with light, easy listening jazz.  I am drawn to less popular forms, including the hard bop idiom of the 1950's and 1960's that featured musicians like Miles Davis, Horace Silver, Sonny Rollins, Charles Mingus, Thelonious Monk and others.  With roots in rhythm and blues, gospel music and proceeding from the bebop sound of the 1940's, hard bop is a bluesy form, using minor keys and modes, deliberate tempos and solid rhythmic grooves.  As a young musician in my high school and college years, I found the hard bop sound to be moving, raw and edgy.  I still have a pretty significant collection of hard bop albums, on CD and vinyl . . .
Among the most amazing of the hard bop jazz musicians was saxophonist John Coltrane and his 1965 album "A Love Supreme" was a masterwork of the period.   Recorded in one session in 1964, "A Love Supreme" was an avant-garde acknowledgement that the musician's talent comes from a higher power; it was to some degree Coltrane's offering of a jazz spirituality.  For aficionados of the form, this Coltrane album was also one of the greatest jazz albums ever recorded.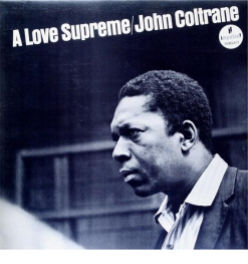 I was made to reflect Coltrane's "A Love Supreme" after reading a reflection by Father Richard Rohr last weekend.   As a practice, Rohr invited his readers to listen to the fourth movement of Coltrane's album, the movement entitled "Psalm," while practicing lectio divina (Latin for 'divine reading'), a practice of reading, meditation and prayer intended to promote communion with God and God's Word.  And Rohr provided a link to an amazing eight-minute video version of "Psalm" with Coltrane playing the handwritten words of the poem on the music stand in front of him, playing the words as if they were music.  This video version actually uses Coltrane's handwritten "Psalm" and overlays it on the video as he and his quartet play . . .
Some of you already admire the music of John Coltrane and are likely familiar with this album.  Others of you are going to try and listen to this and find the music unappealing or very strange.  I would invite you to give it a shot.  Perhaps this will open a door for you to a new musical form.  Perhaps you will determine that hard bop is a genre you will carefully avoid in the future.  In any case, most of us have eight minutes to spare in these days of sheltering at home . . .
What follows is Father Rohr's invitation.  At the first bullet you will encounter the link to the "Psalm" video.
We end the week inviting you to contemplate the soulful music of saxophonist John Coltrane's composition "Psalm" from his album A Love Supreme. In "Psalm," John Coltrane plays the "words" of his poem that was included in the original liner notes. He put this handwritten poem/prayer on the music stand in front of him, and "played" it as if it were music. Practicing Lectio Divina with this song may deepen your sense of prayer and add possible ways to pray. If you enjoy the practice with "Psalm," we encourage you to try praying with other music. That is one of the beauties of Lectio Divina: it encourages us to "pray always."
Before clicking on the following link to listen to

John Coltrane's "Psalm,"

settle your body and begin with silence, asking God to be present in your listening. 




 
Listen to "Psalm" and read along with the words from the poem that appear on the screen. Listen more than once. As you listen again, notice if any image, word, emotion, or memory is called forth in you.




 
When you settle on an image, word, emotion, or memory, sit silently with it and bring your attention back to it when your attention strays.




 
Ask God to reveal what this image, word, phrase, or emotion might have to say about your life today. How is it connected to your spiritual journey?




 
Rest silently with your image, word, phrase, or emotion. Offer it to God. Wait patiently on God.




 

What would you like to express to God about the experience of praying with this piece of music? Take some time to journal about your experience.
Here are the opening lines of "Psalm":
I will do all I can to be worthy
of Thee O Lord.
It All has to do with it.
Thank You God.
Peace.
There is none other.
God is. It is so beautiful.
Thank You God. God is All.
Help us to resolve our fears &
weaknesses.
In You All things are possible.
John Coltrane died of liver cancer at the age of 40, on July 17, 1967.  His funeral was held four days later at St. Peter's Lutheran Church in New York City, a mecca for the jazz community, with a service that included the Albert Ayler Quartet and the Ornette Coleman Quartet.  Hard living probably contributed to Coltrane's passing at such a young age.  His music remains. 
Blessings to you, O people of Trinity.  May you be safe, may you be well, and may you be held in love.
It remains a privilege to serve as one of your pastors.
Grace and peace,
Pastor Robert Linstrom