Trinity returns to "virtual" worship only effective immediately; outdoor worship scheduled this Sunday at 11 a.m.
Beloved community,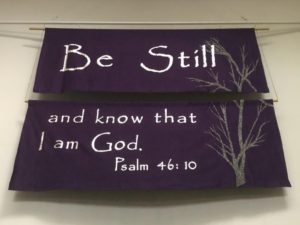 It's been a long year.  That's how I began my email to you on Monday of this week.  On the eve of Election Day, in the midst of a pandemic, while many wrestle with uncertainty, unemployment and the loss of savings, as we worry about the education and wellbeing of our children and other vulnerable neighbors, we look forward to having 2020 in the rearview mirror.  It's been a long year.
Last month we began to welcome a bit of light into the darkness of this journey.  We carefully laid the plan and then gathered for two Sundays of worship in the sanctuary and Centennial Hall.  With excellent protocols and a dedicated team of volunteers working with Trinity staff, we offered a way forward for "in person" worship with an abundance of caution.  It was so good to gather with the small congregations of Trinity members at three worship services for those two Sundays.
Our 13-member "Returning to Worship Coordination Team" gathered on Monday evening this week to review those two weeks of onsite worship and the growing incidence of COVID-19 positive cases and hospitalizations in west Michigan.  We reviewed the input of Trinity doctors and nurses, risk assessment tools for our region and our own sense of the situation at Trinity, in Kent County and throughout the Grand Rapids region.  Based on that consultation, we agreed that it was time to once again withdraw from "in person" worship, effective immediately.
Beginning this Sunday, November 8, Trinity will offer live streaming of "virtual" worship on Sundays at 9:15 a.m. only. Withdrawing from "in person" worship in the sanctuary and Centennial Hall until further notice, the 9:15 a.m. Sunday service will be available live or via recording beginning Sunday afternoon on Trinity's YouTube channel.
One note of grace as we withdraw from worship in the sanctuary and Centennial Hall: at the end of our Coordination Team's Monday evening meeting, one of our team members noted that this coming Sunday, November 8 will include temperatures rising into the 70's with partly sunny conditions.  We agreed at the meeting's close to proceed with offering one more outdoor service on the west lawn this coming Sunday.
You are welcome to gather this Sunday, November 8 on the church west lawn for an outdoor service of Holy Communion at 11 a.m.  We will offer our live streaming worship service at 9:15 a.m. and then gather on the west lawn at 11 – bring your own seating and masks, and plan to keep physical distancing as we celebrate being together for worship one more time this fall.  Holy Communion will be offered, wafer only, and we will give thanks for the grace of the sacrament shared.
I would ask your prayers for Trinity's leadership, staff and volunteer, in this time of discernment and decision making.  These have been hard decisions – there is nothing we would like more than to resume worship and fellowship as we remember those pre-pandemic gatherings.  However, at this time we must again refrain.  Within hours of the decision to refrain from "in person" worship on Monday evening, Faith Community Nurse Kristin Bradley received a call from a Trinity member who had attended the 10:45 a.m. worship service last Sunday and subsequently tested positive for COVID-19.  That member has only minor symptoms and we pray for good recovery. Let us continue to be a people at prayer for the people and health care providers in our communities.  It's a difficult time in this pandemic journey.
When we came together for onsite worship for the first time in nearly eight months on October 25, the appointed Psalm for the day was Psalm 46, the Psalm cited on our Lenten wall banner with the words "Be still, and know that I am God."  With gratefulness for the privilege of being together in worship, I remembered that it was during the season of Lent, with that beautfiul purple wall banner on the wall of the sanctuary, that our worship closure began.  It's been a long year.
Please receive the offering of that rich Psalm as a closing devotion today:
God is our refuge and strength,
 a very present help in trouble.
Therefore we will not fear, though the earth should change,
 though the mountains shake in the heart of the sea;
though its waters roar and foam,
 though the mountains tremble with its tumult.
There is a river whose streams make glad the city of God,
 the holy habitation of the Most High.
God is in the midst of the city; it shall not be moved;
 God will help it when the morning dawns.
The nations are in an uproar, the kingdoms totter;
 he utters his voice, the earth melts.
The LORD of hosts is with us;
 the God of Jacob is our refuge.
Come, behold the works of the LORD;
 see what desolations he has brought on the earth.
He makes wars cease to the end of the earth;
 he breaks the bow, and shatters the spear;
 he burns the shields with fire.
"Be still, and know that I am God!
 I am exalted among the nations,
 I am exalted in the earth."
The LORD of hosts is with us;
 the God of Jacob is our refuge.
Psalm 46
Blessings to you, O people of Trinity.  May you be safe, may you be well, and may you be held in love.
It remains a privilege to serve as one of your pastors.
Grace and peace,
Pastor Robert Linstrom