A beautiful Sunday gathering, and a somber Monday anniversary
The last few days have brought a wonderful and unexpected gift of warm, sunny days to our area before the promised chill of late autumn arrives.  Celebrating that gift, our outdoor worship gathering yesterday on the church's west lawn was genuinely glorious.  Distanced and masked, we nonetheless celebrated the deep goodness of being together in God's good creation.  We marked Veterans Day, commissioned Stephen Ministry leaders Norm Palm and Sheila Talsma, encountered the Word of God for the 23rd Sunday after Pentecost and came forward to receive the eucharistic gift of grace.  Communion was received by the unleavened wafers distributed and the by goodness of being with one another for a genuinely lovely day on Trinity's campus.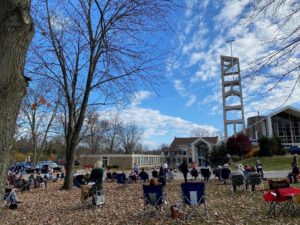 The photo shared here was taken by Sarah Pfeiffle and sent on with the words, "It was a beautiful day for a service."  It was indeed.
Now we gird ourselves once again with disciplines of patience and waiting as the pandemic surges in our region and winter looms . . .
Today, Monday, November 9, is the anniversary of Kristallnacht, "The Night of Broken Glass" in 1938, when German Nazis provoked, coordinated, and permitted assaults on Jewish synagogues, homes, and businesses. Hitler and Joseph Goebbels used the murder of a German diplomat by a Polish Jew as a pretext for the attacks, intentionally arranging them to look like spontaneous demonstrations. They ordered the police to allow the violence, and firefighters to put out fires only if they spread to adjacent, non-Jewish 'Aryan' properties. Whether out of fear or prejudice, virtually everyone cooperated. It was the first mass incarceration of Jews in Nazi Germany; many consider Kristallnacht to be the beginning of the Holocaust.
In two days and nights, more than 1,000 synagogues were burned or otherwise damaged. Rioters ransacked and looted about 7,500 Jewish businesses, killed at least 91 Jews, and vandalized Jewish hospitals, homes, schools, and cemeteries. The attackers were often neighbors. Some 30,000 Jewish males aged 16 to 60 were arrested. To accommodate so many new prisoners, the concentration camps at Dachau, Buchenwald and Sachsenhausen were expanded.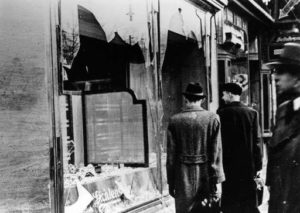 After the pogrom ended, it was given an oddly poetic name: Kristallnacht—meaning "crystal night" or "night of broken glass." This name symbolized the final shattering of Jewish existence in Nazi Germany. After Kristallnacht, the Nazi regime made Jewish survival in Germany nearly impossible.
I remember learning about Kristallnacht from a concentration camp survivor during my undergraduate education at Wittenberg University.  The course was "Literature of the Holocaust," and our guest recalled her childhood experience of the pogrom, the night when her childhood was taken away.  Her testimony was riveting, and my classmates and I were astounded that fellow humans were capable of such horrors on such a massive scale.
Among the authors we encountered in that course was the amazing Elie Wiesel, who also survived the concentration camps of World War II Germany.  His foundational message in the decades that followed was that we must never forget the horrors of the Holocaust, for if we forget, we are doomed to repeat such human tragedy.  Wiesel is remembered as saying, "We must always take sides.  Neutrality helps the oppressor, never the victim.  Silence encourages the tormentor, never the tormented."
He also said, "The opposite of love is not hate, it's indifference."
It's not lost on me that the two images conveyed in this email are in stark contrast, from the beautiful photograph of the Trinity campus on an exemplary fall day, to the despairing image of hate and oppression profiled by the Kristallnacht storefront.  Life is like that.  Although I tend to be a "glass half full" person, seeing the positive and the potential in those with whom I share this human pilgrimage, I find it critically important to reflect on and pray over the somber reality of how oppressive hate can destroy.  We must not risk indifference when we see hate becoming normalized, or when we become so polarized that we fail to see the "other" as a sister or brother on life's journey.  
On this somber anniversary we mark that 82 years have gone by since Kristallnacht unfolded in Nazi Germany.  Let us never forget.  And, in the encounter with and remembrance of the Holocaust or any of the other tragic genocides of this human experiment, let us be committed to never respond with indifference.
Blessings to you, O people of Trinity.  May you be safe, may you be well, and may you be held in love.
It remains a privilege to serve as one of your pastors.
Grace and peace,
Pastor Robert Linstrom