Flowers in exchange for garbage, and "A Prayer for Our Nation"
Beloved community,
There's an old story told from the days after the Wall was constructed to separate East and West Berlin in East Germany.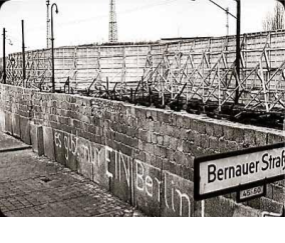 A guarded concrete barrier that physically and ideologically separated the two sides of Berlin from 1961 through 1989, the Eastern Bloc portrayed the construction of the Wall as a way to protect its population from fascist elements that were conspiring to prevent the "will of the people," the building of a socialist state in East Germany.  With the completion of the wall, a large movement of emigration from east to west that had begun in 1949 was halted and contained.
West Berliners had a much higher standard of living than did their relatives and former neighbors on the other side of the Berlin Wall.  This economic disparity caused widespread resentment among residents of East Berlin and one day early in the history of the Wall, as the story goes, a group of East Berliners collected a large pile of garbage and threw it through the three-meter-tall wall that separated them.  Outraged West Berliners approached their mayor regarding the offense, and he proposed a unique response.  He asked the people to gather all the flowers they could find in West Berlin and bring them to a certain place at the wall.  Then, as a great avalanche of beautiful and fragrant flowers was poured over the wall, a large banner was raised.  Written on the banner were the words, "We each give what we have."
I have heard the story told in different ways, with a garbage truck full of good food as the product brought through the wall from west to east in 'retaliation' for the garbage in one version.  One of the tellers of this account, Abdurahman, concluded, "Hatred will not end when reciprocated with hatred.  Hatred will end if rewarded with love."  Although I cannot verify the historical veracity of this little parable, I can certainly embrace the moral of the story.
Martin Luther King, Jr. said, "Darkness cannot drive out darkness; only light can do that.  Hate cannot drive out hate; only love can do that."  And in the spirit of the teachings of Jesus, we are invited into a way of life that repays insult with kindness, hatred with love, darkness with light.  It requires discipline and an expansive grace to readily extend the attributes of kindness, love and light, but that is our calling.  
In our second reading in worship yesterday, we received the Apostle Paul's writing to the church at Philippi, the faith community he seemed to love most as reflected in his epistles.  He embraced an expansive grace and rich, unconditional love in his commendation:
 Rejoice in the Lord always; again I will say, Rejoice. Let your gentleness be known to everyone. The Lord is near. Do not worry about anything, but in everything by prayer and supplication with thanksgiving let your requests be made known to God. And the peace of God, which surpasses all understanding, will guard your hearts and your minds in Christ Jesus.

 Finally, beloved, whatever is true, whatever is honorable, whatever is just, whatever is pure, whatever is pleasing, whatever is commendable, if there is any excellence and if there is anything worthy of praise, think about these things. Keep on doing the things that you have learned and received and heard and seen in me, and the God of peace will be with you.
Philippians 4:4-9
Finally this day, I share with you a 'prayer poem' by activist and artist Judy Chicago.  Named one of TIME Magazine's top 100 most influential people in 2018, her piece is entitled, "A Prayer for Our Nation."  In a time when such prayers often carry explosive political baggage, I find her prayer to be beautiful in its quiet spirit.  Like flowers hurled in retaliation and the power of light and love to change the world, her 'prayer poem' invites a humble, spirit-led response:
JUDY CHICAGO: A PRAYER FOR OUR NATION
And then all that has divided us will merge
And then compassion will be wedded to power
And then softness will come to a world that is harsh and unkind
And then both men and women will be gentle
And then both women and men will be strong
And then no person will be subject to another's will
And then all will be rich and free and varied
And then the greed of some will give way to the needs of many
And then all will share equally in the Earth's abundance
And then all will care for the sick and the weak and the old
And then all will nourish the young
And then all will cherish life's creatures
And then all will live in harmony with each other and the Earth
And then everywhere will be called Eden once again.
Let it be so.
Blessings to you, O people of Trinity.  May you be safe, may you be well, and may you be held in love.
It remains a privilege to serve as one of your pastors.
Grace and peace,