All Saints Day – Sunday, November 1, with three invitations
Beloved community,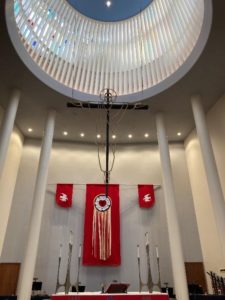 Last Sunday we began the experiment with a return to "in person" worship just as the pandemic began to significantly surge in our area.  This incongruity was not lost on we who were seeking to facilitate the effort to come back together safely.  Our Coordination Team will meet again early next week to evaluate our path forward.
Kristin Bradley shared the photo here from the sanctuary made ready for Reformation Sunday worship.  It was good to have our spaces for worship occupied by small gatherings of worshippers last Sunday.
This coming Sunday is All Saints Day and the appointed readings are rich with themes of stark contrast: death and life, condemnation and redemption, sorrow and joy, suffering and relief, present life and future life. Such is daily life, too, for we who are the baptized children of God. The very nature of our lives is one of stark contrast, we saintly sinners and sinful saints.
On Sunday we will give thanks for the saints who have gone before us, for the saints still among us, and for the saints of God still to come. We will give thanks for the examples of faithful living that the saints have given us as they navigated the stormy waters of life, and also for the faithful acts of service we are empowered by God's Holy Spirit to do as we sail our own seas. We will give thanks for the fullness of eternal life in which the saints of God who have gone before us now partake and which we have yet to fully enjoy.
This Sunday at Trinity we will remember the members of this congregation who have died since All Saints Day in 2019 with a solemn reading of names, the tolling of a bell, candles lit and prayer.  And we will remember those who are newly the 'saints still among us,' those received by the waters of baptism since All Saints Day in 2019.  Those rosters for our All Saints observance conclude this emailing.
You are invited to join us at 8, 9:15 or 10:45 a.m. this coming Sunday at Trinity, or via our 9:15 a.m. live streaming of worship, to mark All Saints Day in our life as a congregation.  
A second invitation: 
The National Lutheran Choir "Virtual All Saints Program"
Sunday, November 1 at 5 p.m. (Eastern time)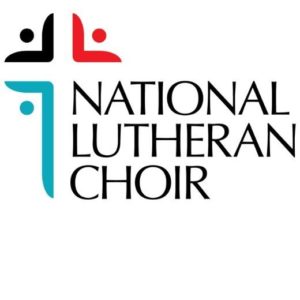 The National Lutheran Choir brings their annual All Saints program to a virtual world-wide audience this Sunday, November 1 at 5 p.m. "In Memoriam (We Remember)" will profile the Choir sharing music of Remembrance, Perseverance, and Hope, with memorial names submitted by listeners as backdrop to the music and message. This concert is free for all and you are welcome to join from wherever you are; click here for the online presentation.
And a third invitation:
North/West Lower Michigan Synod All Saints Day Prayer of Remembrance
Sunday, November 1, 7 p.m.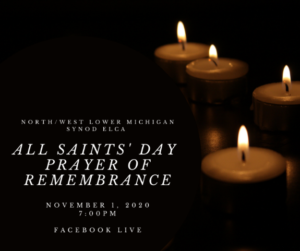 As we mourn those we have lost this year, including the more than 220,000 who have died from COVID-19, we invite you to join Bishop Satterlee for a prayer service of remembrance at 7 p.m. Eastern time on Sunday, November 1.  You can click here for the service which will be premiering live on Facebook.
For All the Saints
We remember Trinity members who have gone before us since All Saints Day, November 1, 2019.
  "If we have died with Christ, we shall also live with him;
if we are faithful to the end, we shall reign with him."
Julia Alice Bauer
January 28, 1949 – December 9, 2019
Randall Raymond Preston
May 10, 1929 – December 21, 2019
Kathryn Elizabeth Christenson
August 24, 1915 – February 14, 2020
Diane Ruth Tanis
December 27, 1946 – April 26, 2020
Francis Edward Bolthuis
July 19, 1931 – May 22, 2020
Michael Gary Franz
February 6, 1943 – September 29, 2020
Susan Lynn Kwast
April 6, 1958 – September 29, 2020
Anne Hanson
January 27, 1926 – October 7, 2020
William Robert Heyne
June 9, 1933 – October 9, 2020
William Grant McClimans
September 27, 1924 – October 13, 2020
The Newly Baptized
Giving Thanks for Our Newest Brothers and Sisters in Christ; 
Those Baptized Since All Saints Day 2019
Isabella Jean Abbate
November 17, 2019
Fiona Rose Pardy
December 8, 2019
Lilah Emerson King
December 29, 2019
Acadia Elise Platt
January 26, 2020 
Brienne Iris Olimpo
February 23, 2020
Alison Abigail Wittenmyer
June 28, 2020
Maya Jane Rubenstahl
July 26, 2020
Thea Ruth Taylor
August 2, 2020
Helena Ann Hughes
August 30, 2020
Abigail Ann Severns
October 4, 2020
Mila Marie Perez
October 18, 2020
Silas William Perez
October 18, 2020
Blessings to you, O people of Trinity.  May you be safe, may you be well, and may you be held in love.
It remains a privilege to serve as one of your pastors.
Grace and peace,
Pastor Robert Linstrom