Listening to existential poets, and redeeming the time in which we live . . .
Return me to my mind
Let me snuggle up and rest
Among the darkness
Like the cell I know so well
Beloved community,
The words above, the opening lines from his poem "Return Me to My Mind," were written by Stanley Eldridge while incarcerated at Riker's Island reformatory in New York City.  He was serving a three-year sentence for a burglary committed at the age of 18.  "Return Me to My Mind" is also the title of a collection of Stanley's poetry published while he was still a prisoner  Riker's Island.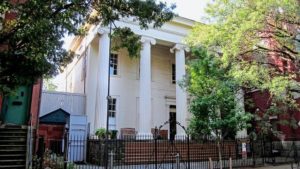 I met Stanley as the new pastor at St. Matthew's Lutheran Church in Jersey City, New Jersey.  One aspect of that ministry was oversight of the historic Barrow Mansion, an 1835 Greek Revival mansion that had served as the church parish house since 1890.  (The red brick of the church building can be seen through the trees to the right of the mansion in this photo.)  The Barrow Mansion was the site of the church office and congregational fellowship events, but it also served as a vital center for 40 community service organizations, including the Hudson County Council on Alcoholism and Drug Abuse, the Hyacinth Foundation providing resources to persons with AIDS, refugee resettlement offices, an African American repertory dance theatre, and as many as ten Alcoholics Anonymous and Narcotics Anonymous twelve-step programs.  From early morning until late in the evening, the Barrow Mansion was humming with activity.
As that community program grew, we determined the need to hire an evening security guard to sit at a reception station at the front entry after office hours and to secure the building at night.  A friend in the community contacted me and said that he wanted me to meet and possibly interview Stanley, a good candidate, he said, for our evening security staffing.  
Stanley was a large, muscular and extremely somber black man.  He didn't smile during our interview and he was genuinely intimidating in his physical presence.  He indicated that he didn't have experience in security but that he knew the streets.  When asked about recent job experience, he explained that he had not held a job recently, that he had been back in jail.  But then he spoke of how much he appreciated what the church did for the community through the resources of the Barrow Mansion community center and the church's food pantry next door.  He said he would keep our buildings safe.
We hired Stanley that day, taking a risk on a man who was having a very hard time finding employment.  He proved to be an exemplary night guard for our facilities, punctual, loyal and even hospitable.  Over time he would stop in to chat before his shift while I was still in the church office.  As I came to know Stanley I learned of his rough childhood, of his criminal activity and jailtime, of a man who had not had many good breaks on life's journey.  I learned of his jail poetry and he presented me with a copy of his poetry collection.  And I came to know the story of an African American male from the Bronx in a world where that identity came with heavy baggage.  It was hard to be a black man in this country, Stanley would testify.  I came to better understand my societal white privilege as I befriended Stanley Eldridge, read his poetry and listened to his life story.
Stanley's existential poetry also helped me to enter his story.  I was made to think of him this week as I encountered again the famed work of African American playwright, novelist and poet Langston Hughes entitled "Let America Be America Again."  Hughes was known for his insightful work profiling the African American experience in this country from the 1920's through the 1960's.  Penned in 1935 on a train ride from New York to Ohio, this poem night as well have been written yesterday: 
Let America Be America Again
Langston Hughes – 1902-1967
Let America be America again.
Let it be the dream it used to be.
Let it be the pioneer on the plain
Seeking a home where he himself is free.
(America never was America to me.)
Let America be the dream the dreamers dreamed—
Let it be that great strong land of love
Where never kings connive nor tyrants scheme
That any man be crushed by one above.
(It never was America to me.)
O, let my land be a land where Liberty
Is crowned with no false patriotic wreath,
But opportunity is real, and life is free,
Equality is in the air we breathe.
(There's never been equality for me,
Nor freedom in this "homeland of the free.")
Say, who are you that mumbles in the dark?
And who are you that draws your veil across the stars?
I am the poor white, fooled and pushed apart,
I am the Negro bearing slavery's scars.
I am the red man driven from the land,
I am the immigrant clutching the hope I seek—
And finding only the same old stupid plan
Of dog eat dog, of mighty crush the weak.
I am the young man, full of strength and hope,
Tangled in that ancient endless chain
Of profit, power, gain, of grab the land!
Of grab the gold! Of grab the ways of satisfying need!
Of work the men! Of take the pay!
Of owning everything for one's own greed!
I am the farmer, bondsman to the soil.
I am the worker sold to the machine.
I am the Negro, servant to you all.
I am the people, humble, hungry, mean—
Hungry yet today despite the dream.
Beaten yet today—O, Pioneers!
I am the man who never got ahead,
The poorest worker bartered through the years.
Yet I'm the one who dreamt our basic dream
In the Old World while still a serf of kings,
Who dreamt a dream so strong, so brave, so true,
That even yet its mighty daring sings
In every brick and stone, in every furrow turned
That's made America the land it has become.
O, I'm the man who sailed those early seas
In search of what I meant to be my home—
For I'm the one who left dark Ireland's shore,
And Poland's plain, and England's grassy lea,
And torn from Black Africa's strand I came
To build a "homeland of the free."
The free?
Who said the free? Not me?
Surely not me? The millions on relief today?
The millions shot down when we strike?
The millions who have nothing for our pay?
For all the dreams we've dreamed
And all the songs we've sung
And all the hopes we've held
And all the flags we've hung,
The millions who have nothing for our pay—
Except the dream that's almost dead today.
O, let America be America again—
The land that never has been yet—
And yet must be—the land where every man is free.
The land that's mine—the poor man's, Indian's, Negro's, ME—
Who made America,
Whose sweat and blood, whose faith and pain,
Whose hand at the foundry, whose plow in the rain,
Must bring back our mighty dream again.
Sure, call me any ugly name you choose—
The steel of freedom does not stain.
From those who live like leeches on the people's lives,
We must take back our land again,
America!
O, yes,
I say it plain,
America never was America to me,
And yet I swear this oath—
America will be!
Out of the rack and ruin of our gangster death,
The rape and rot of graft, and stealth, and lies,
We, the people, must redeem
The land, the mines, the plants, the rivers.
The mountains and the endless plain—
All, all the stretch of these great green states—
And make America again!
from The Collected Poems of Langston Hughes (New York: Alfred A. Knopf, Inc., 1994)
In many ways, Hughes' poem is hard to read.  But it is a fitting anthem for these struggling, discouraging, despairing, but still hopeful, inspiring, and pivotal times.  It is both a heartbreaking witness to the gap between America's promise and its reality, and a stirring call for us to come together and live up to that promise in ambitious new ways. 
I thought of Stanley Eldridge, my friend in Jersey City some three decades ago, when I read this poem again last week.  For it is in coming to grips with the challenges we face as sisters and brothers on this journey that hope is born.  The dreams and promises of a nation are joined with our aspiration in the faith community to usher in the Kingdom of God here and now, on earth as it is in heaven.  Let us join together and seek to redeem this time in which we live.  Listening to voices different than our own can be a starting point in that journey to redemption.
Blessings to you, O people of Trinity.  May you be safe, may you be well, and may you be held in love.
It remains a privilege to serve as one of your pastors.
Grace and peace,
Pastor Robert Linstrom