Remembering "women of valor," those who bring light to the darkness shrouding our world
Beloved community,
Last month our nation marked the 100th anniversary of Tennessee's ratification of the 19th Amendment to the Constitution, prohibiting the states and federal government from denying the right to vote based on sex.  The women's suffrage movement completed a decades long struggle to provide those rights when the 19th Amendment was certified on August 26, 1920.
I noted in one of my congregational emails last month that the 100th anniversary of the passage of the 19th Amendment came in a year when our denomination marked the 50th anniversary of the ordination of women.  These milestones have brought our nation and our expression of the community of faith to a powerfully better place, paving the way for a more complete justice and opening doors to the gifts of so many more in the world in which we live.
Last Friday, Supreme Court Justice Ruth Bader Ginsberg died after a long struggle with pancreatic cancer.  On both sides of the aisle across the branches of our nation's government, the late RBG is remembered as vividly personifying deep integrity, resistance to corruption, commitment to equality, and devotion to justice.  I have appreciated the bipartisan nature of respect expressed for Justice Bader Ginsberg and was reminded of her famous friendship with the late Justice Antonin Scalia, who tended as a jurist to occupy a very different place on the bench.  Ideological opposites, they and their families traveled together and enjoyed New Year's Eve together.  We could use more of that kind of respectful friendship in government in our day.
I will not weigh in on the deliberations that will occur as our government begins the important work of nominating the next Associate Justice of the Supreme Court.  Instead, I share a little story of Bader Ginsberg's faith story that I encountered in one of my homiletical journals this weekend.
When Ruth Bader was a teenager, her mother, Celia, died of cancer just two days shy of Ruth's graduation from high school. In keeping with Jewish custom in those days, only men could be counted as part of a minyan.  Ineligible to be part of the minyan or 'quorum,' Ruth was not allowed to pray the mourner's prayer for her mother (a rule that has since changed in both Reformed and Conservative Judaism).  Ruth was heartbroken and outraged.  As a result, she felt alienated from synagogue membership for much of the rest of her life.
The Bible, however, remained a lifelong source of insight and inspiration for Ruth. Throughout her childhood, her mother inspired her with biblical stories of "women of valor," heroes who were ambitious, wise, and successful. It is said that Ruth drank deeply from these stories, learning them by heart.
Accordingly, when in 2015 she was asked by the American Jewish World Service to write an insert for the Passover order of service, the Seder, she enthusiastically agreed. She organized it around what she called, "The Heroic and Visionary Women of Passover," five figures who played pivotal roles in the story, and yet are often overlooked: Moses' mother, Yocheved; the Hebrew midwives, Shifra and Puah; Moses' sister, Miriam; and Pharaoh's daughter, Batya.
On the last of these five, Bader Ginsburg quotes a midrash from the Babylonian Talmud: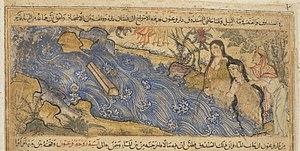 "When Pharaoh's daughter's handmaidens saw that she intended to rescue Moses, they attempted to dissuade her, and persuade her to heed her father. They said to her: 'Our mistress, it is the way of the world that when a king issues a decree, it is not heeded by the entire world, but his children and the members of his household do observe it, and you wish to transgress your father's decree?'"
To which RBG added this commentary: "But transgress she did."  She continued:
"These women had a vision leading out of the darkness shrouding their world. They were women of action, prepared to defy authority to make their vision a reality bathed in the light of the day.
"Retelling the heroic stories of Yocheved, Shifra, Puah, Miriam and Batya reminds our daughters that with vision and the courage to act, they can carry forward the tradition those intrepid women launched.
"While there is much light in today's world, there remains in our universe disheartening darkness, inhumanity spawned by ignorance and hate. We see horrific examples in the Middle East, parts of Africa, and Ukraine. The Passover story recalls to all of us—women and men—that with vision and action we can join hands with others of like mind, kindling lights along paths leading out of the terrifying darkness."
("Justice Ruth Bader Ginsberg on Passover," American Jewish World Service, March 18, 2015)
Framed on a wall in her chambers at the Supreme Court, RBG kept a quote from Deuteronomy, three Hebrew words in beautiful calligraphy: Tzedek, tzedek tirdof. "Justice, justice, you shall pursue." (Deuteronomy 16:20) 
The passage is from a larger passage from Deuteronomy as God directs the newly freed Israelites for their new life and a society characterized by equality and integrity under the law: "You must not distort justice; you must not show partiality; and you must not accept bribes, for a bribe blinds the eyes of the wise and subverts the cause of those who are in the right. Justice, justice, you shall pursue" (Deuteronomy 16:19-20).
Women of valor like Yocheved, Shifra, Puah, Miriam, and Batya, were lifted up by the late Ruth Bader Ginsburg to remind us to confront injustice and bring light to the darkness shrouding our world.  Women of valor in our day continue to lead us in that enlightened journey.
Tzedek, tzedek tirdof!  Justice, justice, you shall pursue.
I am grateful for the many gifted women in my life who have inspired and taught me by standing for that which is right and true.  In this anniversary year, and in tribute to Ruth Bader Ginsberg and other women who have striven for deep measures of justice and equality, may we be inspired to join them in bringing light to the dark places of life's journey.
Blessings to you, O people of Trinity.  May you be safe, may you be well, and may you be held in love.
It remains a privilege to serve as one of your pastors.
Grace and peace,
Pastor Robert Linstrom