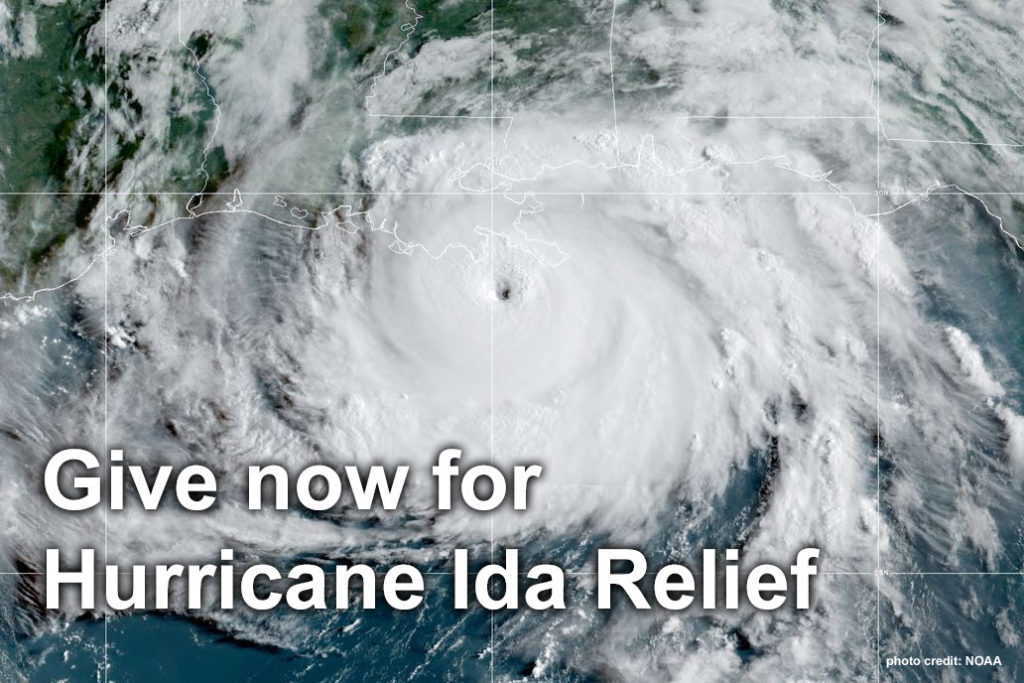 "Be to me a rock of refuge, a strong fortress, to save me, for you are my rock and my fortress" (Psalm 71:3).
Dear friends,
The headlines are filled with the devastation from Hurricane Ida, which made landfall near New Orleans on Aug. 29 — exactly 16 years after Hurricane Katrina. As a strong Category 4 storm, Hurricane Ida's 150 mph winds, torrential rain and strong storm surge caused widespread flooding and wind damage in southeastern Louisiana and coastal Mississippi. Homes are flooded and residents are awaiting rescue, which is hampered by the high waters and debris-clogged roads. Strong winds knocked out power lines and electrical substations, leaving more than 1 million people without power, including the entirety of New Orleans. In some areas, electricity is not expected to be restored for weeks. Ida weakened into a tropical storm as it moved inland and will likely cause heavy flooding in Mississippi, Alabama, and the Tennessee and Upper Ohio valleys.
The impact of Ida is yet to be fully assessed, but with a hurricane of this scale, rebuilding will be costly and take years. With extensive experience in accompanying communities throughout the relief and long-term recovery phases, Lutheran Disaster Response is working with local ELCA synods and Lutheran social service organizations to coordinate a response to Hurricane Ida. Immediate needs will include food, basic necessities and temporary housing. Long after the headlines change, Lutheran Disaster Response will continue to accompany communities on the journey of rebuilding their homes and lives.
Your gifts will support survivors of Hurricane Ida. Gifts to "U.S. Hurricanes" will be used in full (100%) to assist those affected by hurricanes until the response is complete.
We pray that God's presence will be felt in the midst of suffering and bring comfort to those who are hurting. Together, we can show our neighbors that they are not alone.