"Suddenly Disney is out of Magic," seeking to nurture an intentional sense of mature resolve, and an invitation to help shape an ELCA Social Statement
Beloved community,
I came across Rasid's reflection a couple of days ago and, for me, it provoked a measure of contemplation and resolve.  The plaque profiled below, and referred to in the reflection by Haroon Rasid, quotes Walt Disney and is found at the entrance to Disney theme parks: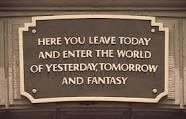 We fell asleep in one world, and woke up in another.
Suddenly Disney is out of magic,
Paris is no longer romantic,
New York doesn't stand up anymore,
the Chinese wall is no longer a fortress, and Mecca is empty.
Hugs & kisses suddenly become weapons, 
and not visiting parents & friends becomes an act of love.
Suddenly you realize that power, beauty & money are worthless, 
and can't get you the oxygen you're fighting for.
The world continues its life and it is beautiful. 
It only puts humans in cages.
I think it's sending us a message:
"You are not necessary. The air, earth, water and sky without you are fine. 
When you come back, remember that you are my guests. Not my masters."
Haroon Rasid
It can rightly be said that the Covid-19 pandemic has brought us to our physical and mental knees, and we are being challenged to think of a new world as we begin the climb out of our isolation.  Masks and distancing will join us in the pews as well as the grocery aisles, and perhaps we will be somewhat humbled in a new model of modest, restrained fellowship as we resume our places as this world's guests.  
We are challenged to consider a new way of being in communion with one another, with nature and with the many creatures of which we are now so much more aware.  Some say that we will never quite be the same, and although that could be said from season to season in our lives, it is different, a bit more profound, this time.  Perhaps we will find a place in this good creation that is less arrogant and more intentionally harmonious, seeking to live as partners with one another and the natural order.  Perhaps this good earth has offered us a wake-up call as to the fragility and beauty of the world we inhabit.
A wise contemplative once said, "Some people complain because God put thorns on roses. Others praise Him for putting roses among thorns."  Beyond the obvious "glass half empty/glass half full" juxtaposition in that little adage, the saying evokes the aspiration to live with a certain resolve, one that seeks to perceive the precious, fragile flowers that are present even in life's most challenging circumstances.  
The fussy infant at the funeral of a well-loved elder makes me smile, a sign of a new generation present as we bid farewell to one of the saints with whom we've shared life's journey.  While some shoot a stern glance in the direction of the often-over-compensating parent as she wrestles with her unsettled infant son, I seek to give thanks for his presence as the older generations gather in remembrance.  Some see a thorn, and some see a rose.  "Let the little children come to me, and do not hinder them, for to such belongs the Kingdom of heaven," our Lord taught.  A certain, mature resolve redeems life's thorns and allows the beautiful blossom to be made manifest.  
This COVID-19 time reminds us to embrace the vulnerable, the broken, the despairing, the unsettled, the anxious, and the dying, and to do so with loving embrace, unconditional and unencumbered.  We are bound, one to another, after all.  And as we begin again on life's journey, giving thanks for the roses along the way and our invitation to be gracious guests in this beautiful life, we are invited to step into our future with a bit more maturity and introspection, appreciating more fully this good Earth and our sisters and brothers with whom we share the journey.
Finally, on this Wednesday in the third week of the season of Easter, I have an invitation for the people of Trinity.  The ELCA is developing a Social Statement on the government and civic engagement, profiling a way of discipleship as we live together in this democracy, with all its shortcomings.  Like roses amid the thorns, we seek to be good citizens in our engagement in the political world even as we critique its failings, and we are invited do that with a firm foundation in scripture and our Lutheran heritage.  You are invited to read the draft statement accessed by the "Learn More" link below and provide feedback, helping to shape the emerging Social Statement, as per this notice in our synod's weekly newsletter:
 "A Draft Social Message on Government and Civic Engagement: Discipleship in a Democracy."
ELCA Social Statement Feedback
Submit Feedback by May 27
The idea of government was already in focus because this was an election year, and the pandemic has focused it more so. But what does the ELCA teach about the nature and function of government in relation to God's progress? What is a faithful Lutheran response regarding citizenship and civic engagement? A draft social message to guide our church on these questions has been prepared and you are invited to provide feedback on how to strengthen this message. Learn More. 
Follow the link to read the draft statement and provide feedback.  Consider this little homework assignment an invitation to be productive in helping shape an ELCA social position, redeeming just a small bit of your "shelter in place" time.  
Eastertime blessings friends.
Grace and peace,
Pastor Bob Linstrom