Trinity Re-Entry Plan begins to unfold
Beloved community,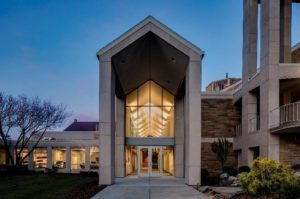 With Governor Whitmer's announcement this week of the shift to Phase 4 in the Michigan Safe Start Plan, the Trinity Re-Entry Plan is poised to support several significant developments in our parish life in the days ahead.  This coming Friday, our regular weekly eBlast will return with announcement of Trinity's first stage programming in re-entry as conditions continue to improve in response to the COVID-19 pandemic.  The following plans are among those that are in place:
The church

sanctuary will be open Monday through Friday from 10 a.m. to 2 p.m.

for individual prayer and meditation beginning next Monday, June 8.  Masks, distancing, and check-in protocols have been established and those who wish to come onsite are required to bring a mask and enter by the west side office entrance only.
Church staff will begin to transition onsite

in the days ahead, effective immediately.  Phase 4 includes the directive "safer at home," but we will begin to see more of our Trinity leadership team onsite at the church.
Plans are underway for an

outdoor worship service with Holy Communion

(wafer only) on the church west lawn on

Sunday morning, June 21 at 11 a.m.

  Live streaming of worship at 9:15 a.m. continues weekly, but the plan for once-a-month outdoor communion services is being developed this summer, aligned with the governor's indication that outdoor gatherings of up to 100 are being permitted.  This will be a brief, spoken service of Holy Communion – plan to bring a lawn chair or blanket, to bring masks for all and to keep distancing between family groups.  The rain date will be June 28.
Onsite

small groups and meetings for up to ten inside the building and up to 100 outdoors

are now possible to schedule, beginning Monday, June 8.  Call the church office if you would like to schedule your Trinity program onsite – masks, distancing and all other safety protocols will be required and only the west side office entry will be unlocked for access to the building.
Governor Whitmer indicated that her goal is to transition to

Phase 5 state guidelines by July 4

.  With that transition, the movement onsite for

small Sunday worship services will be possible

.  Watch for details in upcoming communications.
Trinity's Congregation Council will be acting on our Trinity Re-Entry Plan at its meeting on June 8.  Upon adoption of that draft plan, highlights of our planned re-entry will be more formally shared with the whole congregation next week.  Let us continue to hold one another in prayer as we seek to begin coming together again after nearly three months of physical separation.
Responding to a Time of Social Upheaval 
"To be silent right now is to be silent in the face of racism."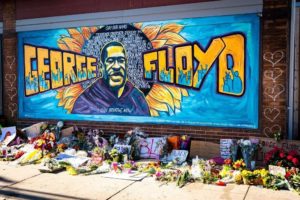 Since the killing of George Floyd in Minneapolis on May 25, our nation has erupted in demonstrations, protest, violence and destruction.  The cities of west Michigan have not been spared from the upheaval, and combination of social unrest with the still poignant realities of pandemic and economic collapse have many of us overwhelmed.  We pray for peace, but we know that without justice there can be no peace.  We hope for a new day, but we need to address the very real issues at the heart of this upheaval before a new day can be fully realized.  This is a moment in our lives that requires our intentional engagement.  The cost of discipleship does not allow us to retreat from the significance of the call to change that is being voiced by those who have been victims of systems of racism and injustice in our nation and world.
We are broken hearted for our country, for our cities and towns, and for our neighbors in a time of protest and demonstration unparalleled in the last half century.  We stand against the violence, destruction of property, looting and loss of life that have occurred in the last week across America.  But the vast majority of those crying out in our time are employing non-violent demonstration to call on the people of this nation to face and dismantle systems of racism and injustice that are deeply ingrained in our society.  They are calling us to "wage peace," to fight against injustice, and to combat racism with lives that are engaged in forging a new path.  In the words of Rabbi Jack Moline, president of the Interfaith Alliance, "to be silent now is to be silent in the face of racism."
Rabbi Moline released the following statement on June 1:
What we are facing today is a pivotal moment for our nation. The very real pain of Black Americans has been laid bare through the outrage around the deaths of George Floyd, Breonna Taylor, Ahmaud Arbery and so many others. Each of us has a choice: to sit back and allow things to remain the same, or to act courageously and demand a justice system that truly values Black lives. 
Interfaith Alliance chooses courage. As a multiracial, multicultural organization representing those of all faiths and none, it is crucial to our work that we actively support systemic change and work toward a more inclusive, more just future. We join in solidarity with the Black activists mobilizing against police violence and demanding an end to the racism deeply ingrained in far too many of our institutions. 
To be silent right now is to be silent in the face of racism. Every one of us – and especially those who benefit from white privilege – has a moral responsibility to listen to and show up for Black Americans. This means calling out injustice where we see it, supporting organizations and campaigns helmed by Black leaders, and electing champions of racial justice. 
We face twin challenges. When it comes to COVID-19, be reticent. Stay home as much as you can and limit opportunities for infection. But when it comes to fighting racism in this country, I ask you to be anything but reticent. In fact, I ask you to be bold.
What will it take to boldly live out our faith in response to this time of crisis and to call out injustice and racial violence?  I have yet to hear a coherent, all-encompassing plan for our paths of discipleship.  Still, as Rabbi Moline issues the challenge, all of us, and especially those of us who benefit from white privilege, have a moral responsibility to listen to and show up for Black Americans.  This is a critically important time in our country and in our communities.  I pray that we do not simply seek to "get back to normal," a failing reality that needs to be transformed.  May we act with courage to inaugurate a new day that values the lives of every American, seeking just and equitable systems that value every human life.
My friends in Christ, let us pray.
Eternal God, amid all the turmoil and changes of the world your love is steadfast, and your strength never fails. In this time of danger and trouble, be to us a sure guardian and rock of defense. Guide the leaders of our nation with your wisdom, comfort those in distress, and grant us courage and hope to face the future.
Look with mercy, gracious God, upon people everywhere who live with injustice, terror, disease, and death as their constant companions. Rouse us from our complacency and help us to eliminate cruelty wherever it is found. Strengthen those who seek equality for all. Grant that everyone may enjoy a fair portion of the abundance of the earth.
God, our refuge and strength, you have bound us together in a common life. In all our conflicts, help us to confront one another without hatred or bitterness, to listen for your voice amid competing claims, and to work together with mutual forbearance and respect.
Grant, O God, that your holy and life-giving Spirit may move every human heart; that the barriers dividing us may crumble, suspicions disappear, and hatreds cease; and that, with our divisions healed, we might live in justice and peace.
Finally, O God, where hearts are fearful and constricted, grant courage and hope. Where anxiety is infectious and widening, grant peace and reassurance. Where impossibilities close every door and window, grant imagination and resistance. Where distrust twists our thinking, grant healing and illumination. Where spirits are daunted and weakened, grant soaring wings and strengthened dreams. All these things we ask in the name of Jesus Christ, our Savior and Lord.  Amen.
Grace and peace,
Pastor Bob Linstrom