My humanity is bound up in yours, for we can only be human together.
– Desmond Tutu
Beloved community,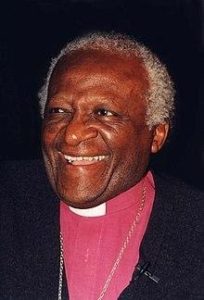 Today is the birthday of Desmond Tutu, born in Klerksdorp, South Africa, in 1931. For his leadership in opposing apartheid in South Africa, he was awarded the Nobel Peace Prize in 1984; two years later, he elected to be the first black archbishop of Cape Town, the head of the country's Anglican Church.  In 1995, President Nelson Mandela appointed Tutu to lead the Truth and Reconciliation Commission, investigating apartheid-era human rights abuses.
I heard Archbishop Tutu speak at Miller Auditorium in Kalamazoo about 20 years ago.  Post-apartheid, Tutu had completed his work with the Truth and Reconciliation Commission and was on an international speaking tour.  He was a delightful presence on the stage, sitting in a sparse living room setting and speaking for most of two hours to a packed auditorium.  Like the Dalai Lama, as a speaker Tutu was an unassuming presence exuding humility and genuine warmth.  His love of life was infectious, and the audience joined him when he tittered in joyful laughter.  
Speaking of colonial Africa, Tutu said, "When the missionaries came to Africa, they had the Bible and we had the land. They said, 'Let us pray.' We closed our eyes. When we opened them, we had the Bible and they had the land."
But Tutu also told stories deeply serious in their depth as he recounted the long struggle against apartheid in South Africa and emergence from that struggle as the chair of the post-apartheid Truth and Reconciliation Commission (TRC).  The TRC had been formed to address the decades of human rights abuses committed by both the state and by anti-apartheid activists.  Tutu proposed that the TRC adopt a threefold approach: confession by those who had committed the abuses, forgiveness in the form of legal amnesty from prosecution, and restitution, with the perpetrators making amends to their victims.  
Tutu proposed that the TRC would function in the spirit of ubuntu, a quality evoked by the South African Xhosa and Zulu peoples that includes the essential human virtues of compassion and affirmation of shared common humanity.  Ubuntu is often translated, "I am because we are."  Tutu was an advocate for restorative justice, and often began TRC sessions in prayer and thereby set the tone for TRC efforts to seek opportunities for new beginnings.
Tutu told the rapt crowd at Miller Auditorium of one such TRC proceeding in which several Africans from a segregated township had killed a white woman from California.  The woman had been in South Africa to work as a volunteer on a multi-racial initiative with local activists to end apartheid and to provide resources to the many people living behind walls of segregation.  After an evening meeting of fellow activists in Johannesburg, she had offered to give a ride to an African township resident back to his home in the township.  As she drove into the township, she encountered a turbulent demonstration.  The woman was pulled out of her vehicle and brutally murdered over the cries of her passenger and fellow activist, who then witnessed her tragic death.
At the TRC hearing, the men who had taken her life confessed their crime to the woman's parents, who had come to South Africa for the hearing.  Tutu described the parents sitting with little expression but weeping throughout the confession, that those confessing wept as well as they recounted that terrible evening and that he found himself in tears.  The perpetrators seemed genuine in their confession and in their plea for forgiveness as they addressed the commission and the murdered woman's parents.
Archbishop Tutu told us that the commission hearing ended with the parents of the victim creating a foundation in her name to provide opportunities for South African children who had been victims of oppression during the apartheid years.  To the amazement of everyone attending the hearing, they appointed their daughter's killers to be directors of the foundation.
I stand in awe before the power of restorative justice and efforts based on reconciliation and new beginnings.  Our divisive and broken world could use a bit more of those impulses in government and society.
I close today with wise words from Desmond Tutu on his 89th birthday:
How does peace come?  Peace doesn't come because allies agree. Allies are allies — they already agree!  Peace comes when you talk to the guy you most hate. And that's where the courage of a leader comes.
If you are neutral in situations of injustice, you have chosen the side of the oppressor. If an elephant has its foot on the tail of a mouse and you say that you are neutral, the mouse will not appreciate your neutrality.
My humanity is bound up in yours, for we can only be human together.
I am not interested in picking up crumbs of compassion thrown from the table of someone who considers himself my master. I want the full menu of rights.
Be nice to whites, they need you to rediscover their humanity.
We may be surprised at the people we find in heaven. God has a soft spot for sinners. His standards are quite low.
You must show the world that you abhor fighting.
Children are a wonderful gift. They have an extraordinary capacity to see into the heart of things and to expose sham and humbug for what they are.
God's dream is that you and I and all of us will realize that we are family, that we are made for togetherness, for goodness, and for compassion.
Do your little bit of good where you are; it's those little bits of good put together that overwhelm the world.
Blessings to you, O people of Trinity.  May you be safe, may you be well, and may you be held in love.
It remains a privilege to serve as one of your pastors.
Grace and peace,
Pastor Robert Linstrom