The button below directs you to a page titled"Ways to be of Help during the COVID-19 Pandemic."Compiled by Director of Discipleship Sylvia Stouten and other Trinity staff, it provides tangible ways that you can make a difference in our community through the work of some of our long-standing benevolent partners and in some new ways.  For more information, contact Sylvia.
WAYS TO HELP
Except for Sunday Virtual Worship live streaming at 9:15 am, all parish and community programs have been removed from our operations through at least May 10th. Be welcome to join us in worship!
PREVIOUS MESSAGES
April 5th, 2021
Love the Lord.  Love the world. 
Practicing resurrection . . .
Beloved community,
Alleluia!  Christ is risen!
Christ is risen indeed!  Alleluia!
It was genuinely a joy to intone our Easter dialog in the midst of the assembled worshippers yesterday.  For many of us, it was a hopeful new beginning.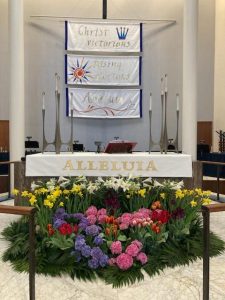 Gathering in the sanctuary and in Centennial Hall to acclaim the Resurrection of Our Lord in worship, this was the day that the Lord had made; we rejoiced and were glad in it.  As the brilliant April day climbed into the 70's, the new life of springtime illuminated our Easter praise and we gave thanks for the goodness of creation.
We wanted to sing in full voice, to shout our acclamation and to embrace one another.  But we hummed the great hymns and songs, offered responsive prayer and praise through well masked faces, and kept our distance.
With the women in Mark's Gospel, which concludes with their astonished fear as they fled the empty tomb at dawn, we know that we are still in the shadows of this long COVID year, and that there is still a long, hard road ahead as we rise up our of our pandemic tomb.  We embrace their silence and uncertainty as spring arrives and the season of Easter begins.  Still bewildered and overwhelmed by the "in between" time of a particularly lengthy "Holy Saturday," many of us still await our rising, a rising already actualized in the rising of our death conquering Lord.  We know that the Roman cross has become the Tree of Life, that the sword has been transformed into a ploughshare.  But this pandemic pilgrimage requires that we spend a bit more time in silence and stillness, a bit more "Holy Saturday" time withholding our Easter hymns and shouts of unbridled joy.
Still, the fifty days of Eastertide have begun, the season of resurrection (poetically one week longer than the six weeks of Lent) — and while resurrection is a kind of event, it's also a kind of practice. One of the great contemporary guides to what "practicing resurrection" might look like is poet/farmer/philosopher Wendell Berry, not least because he's learned from the best — the fox, the leaves, and the soil, among other revolutionaries — about how resurrection is truly done. Berry invites us to "Love the Lord" and "love the world."  His delightful poem is a gift for this Easter Monday.
MANIFESTO: THE MAD FARMER LIBERATION FRONT
by Wendell Berry
Love the quick profit, the annual raise,
vacation with pay. Want more
of everything ready-made. Be afraid
to know your neighbors and to die.
And you will have a window in your head.
Not even your future will be a mystery
any more. Your mind will be punched in a card
and shut away in a little drawer.
When they want you to buy something
they will call you. When they want you
to die for profit they will let you know.
So, friends, every day do something
that won't compute. Love the Lord.
Love the world. Work for nothing.
Take all that you have and be poor.
Love someone who does not deserve it.
Denounce the government and embrace
the flag. Hope to live in that free
republic for which it stands.
Give your approval to all you cannot
understand. Praise ignorance, for what man
has not encountered he has not destroyed.
Ask the questions that have no answers.
Invest in the millennium. Plant sequoias.
Say that your main crop is the forest
that you did not plant,
that you will not live to harvest.
Say that the leaves are harvested
when they have rotted into the mold.
Call that profit. Prophesy such returns.
Put your faith in the two inches of humus
that will build under the trees
every thousand years.
Listen to carrion — put your ear
close, and hear the faint chattering
of the songs that are to come.
Expect the end of the world. Laugh.
Laughter is immeasurable. Be joyful
though you have considered all the facts.
So long as women do not go cheap
for power, please women more than men.
Ask yourself: Will this satisfy
a woman satisfied to bear a child?
Will this disturb the sleep
of a woman near to giving birth?
Go with your love to the fields.
Lie easy in the shade. Rest your head
in her lap. Swear allegiance
to what is nighest your thoughts.
As soon as the generals and the politicos
can predict the motions of your mind,
lose it. Leave it as a sign
to mark the false trail, the way
you didn't go. Be like the fox
who makes more tracks than necessary,
some in the wrong direction.
Practice resurrection.
It's Easter in the life of the church, a good time for us all to practice resurrection.  
Blessings good people of Trinity.  May you be safe, may you be well, and may you be held in love.
It remains a privilege to serve as one of your pastors.
Grace and peace,
Pastor Robert Linstrom